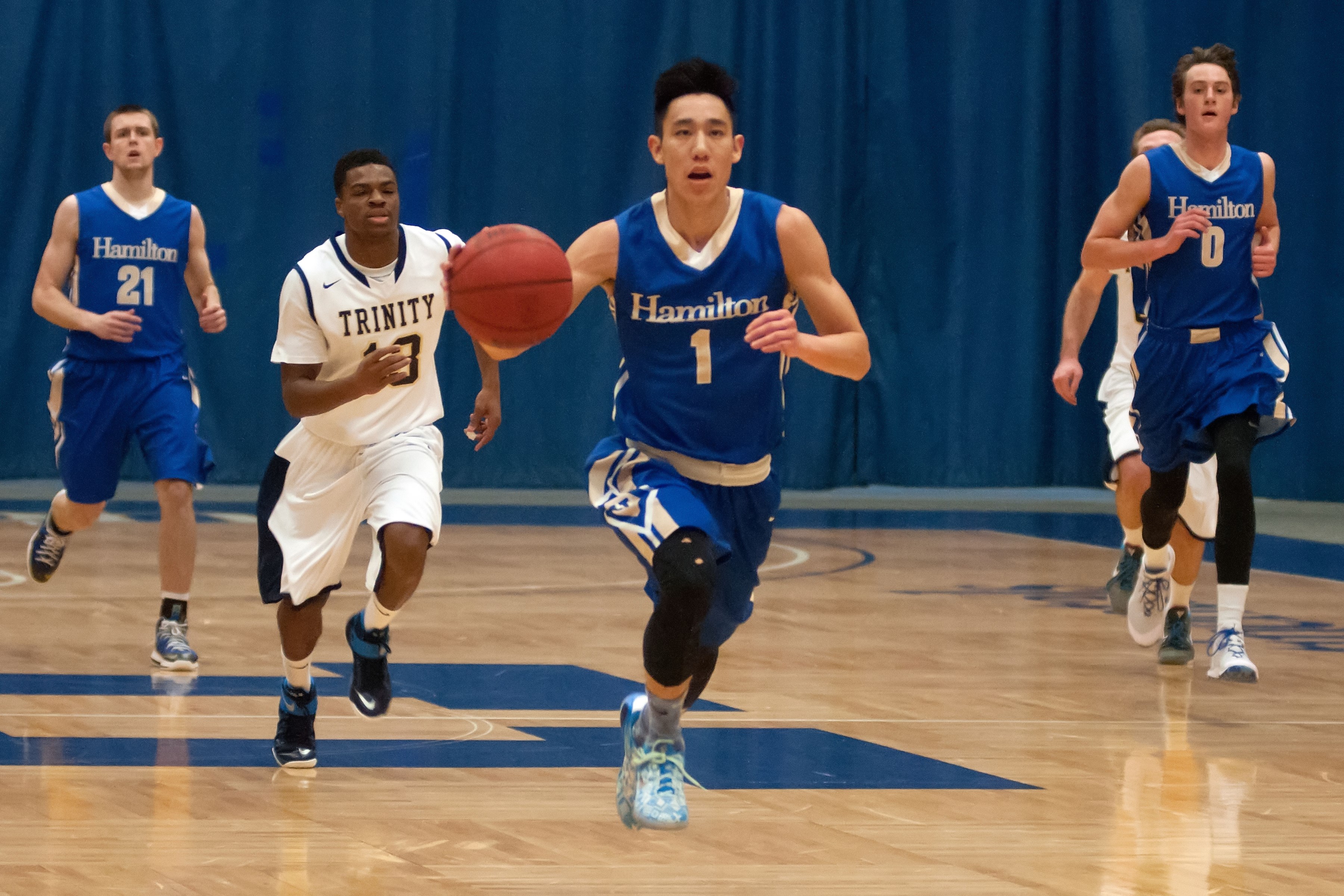 Colby College's Chris Hudnut poured in 26 points and grabbed 16 rebounds and the Mules held on for a 75-70 NESCAC win against the Hamilton College Continentals at Colby's Wadsworth Gymnasium on Friday night.

Box Score

The Mules (10-5, 3-0 NESCAC) won their fourth game in a row. Colby made more free throws (19) than Hamilton attempted (6), and the Mules went 15-for-21 at the line in the second half alone. Colby held a 33-27 rebounding advantage but committed 18 turnovers.

Hudnut also handed out four assists for the Mules. Ryan Jann chipped in 12 points and eight boards, and Luke Westman added 12 points, four assists and three blocked shots.

The Continentals (10-5, 0-3) were led by Joseph Lin '15, who posted his third double-double in the last six games with 23 points and 10 assists. Lin is averaging 8.5 assists per game during that span and entered the evening ranked sixth in NCAA Division III with 6.5 per game so far this season.

Joe Pucci '18 and Ajani Santos '16 dropped in 10 points apiece and Peter Kazickas '15 pulled down six rebounds for Hamilton. Jack Donnelly '16 made three 3-pointers and finished with nine points. The Continentals made 8 of 15 shots (53.3 percent) from beyond the arc.

Both teams were red-hot from the field in the first half as Hamilton shot 56.3 percent and Colby shot 64.3 percent, including 6 of 11 from 3-point range. The Mules led 46-40 at the break.

Colby scored the first four points and never trailed. The score was tied once at 40-40 with 51 seconds left in the first half when Kazickas made a layup. Lin had 13 points and nine assists by halftime.

The Mules led 60-49 with 8:13 left but Hamilton went on a 10-2 run capped by a Donnelly 3-point shot with 3:35 to play that cut the margin to 62-59. Hudnut scored five straight points to push the margin to 67-59 with 2:15 to go. The Continentals roared back with seven straight points -- the last two on a layup by Lin with 1:12 to go to make it 67-66.

Hamilton hurt its own cause by committing a foul and then getting a technical foul with 41 seconds to play. Hudnut nailed both free throws on the technical and Westman hit 1 of 2 to make it 70-66.

Lin quickly scored with 33 seconds left to cut the deficit in half. Sam Willson went 1-for-2 from the foul line with 27 seconds left for a 71-68 margin. Lin scored again and cut the Colby lead to one with 17.2 seconds to play. The Mules immediately turned the ball over and then fouled, but Hamilton missed the front end of a 1-and-1.

Jann was fouled on the rebound and nailed two free throws with 10 seconds left for a 73-70 lead. The Continentals missed a 3-point shot and Willson closed out the scoring with two free throws with 1.4 seconds to play.

Hamilton travels to Bowdoin College for another NESCAC game on Saturday, Jan. 17, at 3 p.m.