Men's basketball cruises at Conn. College
---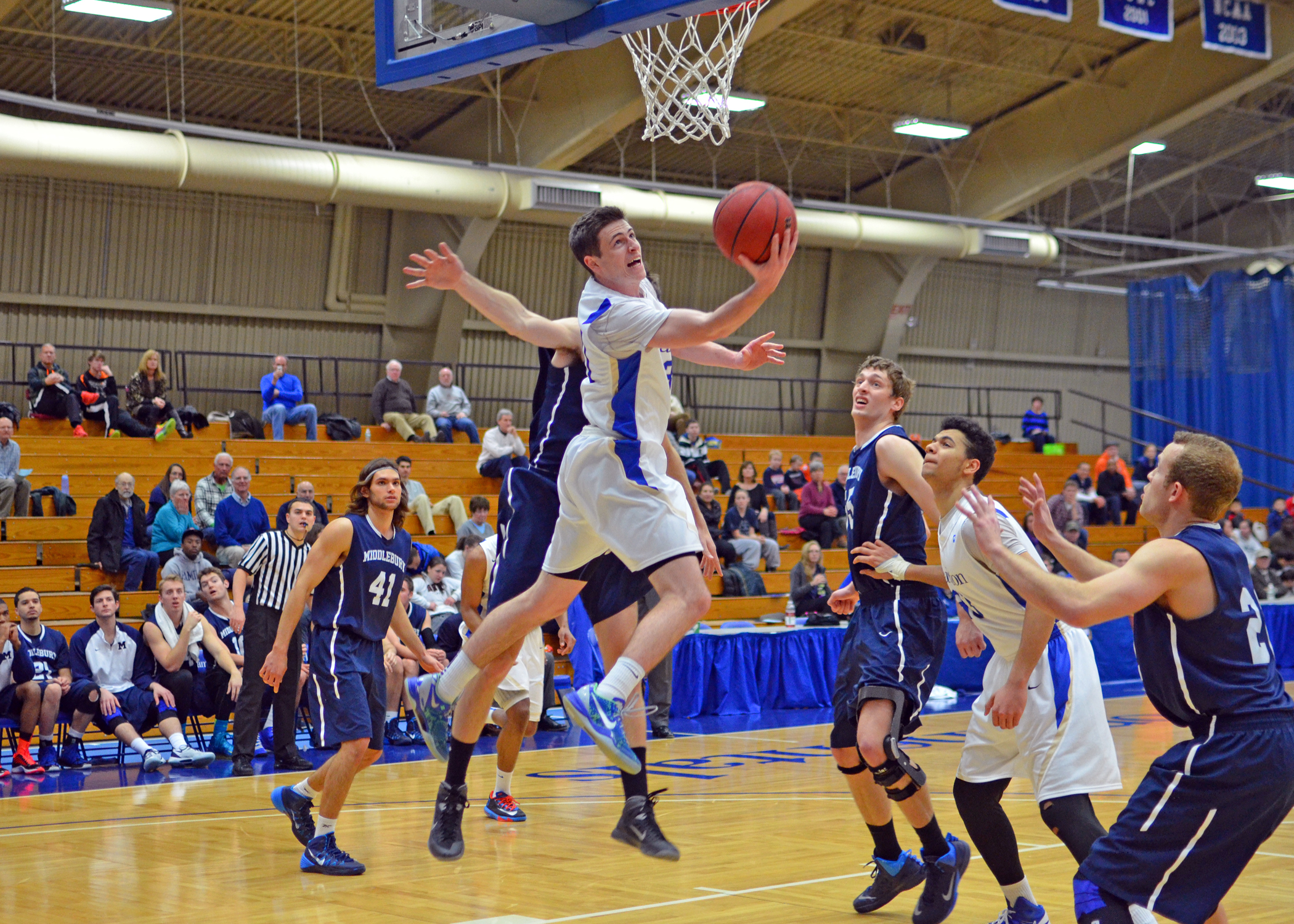 Hamilton College's Matt Hart '16 poured in 29 points and the Continentals wrapped up the regular season with an 80-63 NESCAC win against the Connecticut College Camels at Conn. College's Luce Field House on Feb. 15.

Box Score

Hamilton (14-10, 5-5 NESCAC) has won five of its last six games as the Continentals prepare for the 2014 NESCAC Men's Basketball Championship. Hamilton tied for fifth place in the conference standings but will be the No. 6 seed and will play No. 3 seed Middlebury College at Middlebury in the quarterfinals on Saturday, Feb. 22.

Hart made 11 of 17 shots from the floor, including 4 of 7 from 3-point range. Hart, who leads the NESCAC in scoring with 21.0 points per game, added six rebounds, five assists and two steals.

Jack Donnelly '16 scored a career-high 11 points and Ajani Santos '16 chipped in 11 for the Continentals. Greg Newton '14 had eight points and five assists, Bradley Gifford '15 grabbed eight rebounds and Joseph Lin '15 handed out six assists. Hamilton had 22 assists on 31 made baskets and shot 56.4 percent from the field, including 8 of 15 from beyond the arc. The Continentals held a 35-29 edge on the glass.

Matt Vadas paced the Camels (9-14, 2-8) with 20 points and three steals, and Mason Lopez tallied 14 points. Zuri Pavlin posted 11 points and nine boards off the bench. Pavlin leads the NESCAC with 10.8 rebounds per game. Conn. College went 20-for-24 at the free-throw line but shot just 35.2 percent from the floor.

Hamilton scored the first five points and led the entire afternoon. A jumper by Peter Kazickas '15 gave the Continentals their first double-digit lead at 17-7 with 11:41 left in the first half. The Camels fought back and a basket by Colin Pascoe pulled Conn. College within three points at 28-25 with 5:38 to go in the half. A layup by Hart with 31 seconds remaining restored Hamilton's double-digit lead as the Continentals went into the break with a 40-30 cushion.

The Camels cut their deficit to six points at 40-34 with four straight free throws at the start of the second half. Hamilton responded with eight straight points and grabbed its largest lead of the day. Santos started the spurt with two baskets and two more by Hart made it 48-34 with 14:19 left. The Continentals led by at least 11 points the rest of the way. Hamilton took its largest lead at 75-50 on a Santos layup with 4:48 to go.