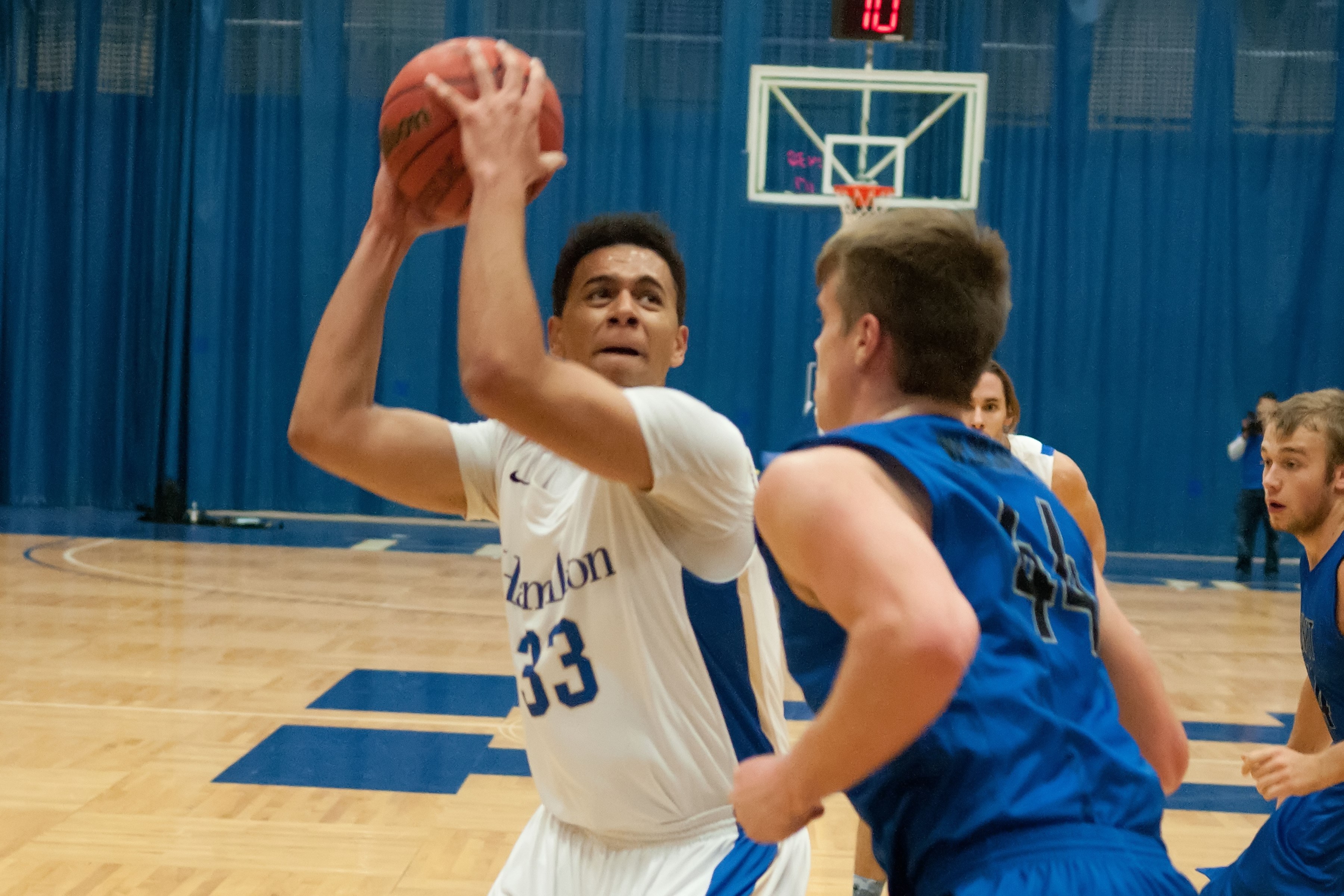 Hamilton College's Jack Donnelly '16 dropped in a career-high 16 points and the undefeated Continentals rolled to a 66-46 non-conference win on the road against the Cazenovia College Wildcats on Dec. 3.

Box Score

Hamilton is 7-0 for the first time since the Continentals won their first eight games in 2011. Hamilton's defense was on display yet again as Cazenovia shot just 22.7 percent from the field. The Continentals are limiting opponents to 33 percent shooting so far this season.

Donnelly made 4 of 6 shots from 3-point range. As a team, Hamilton canned 8 of 14 shots from beyond the arc. Ajani Santos '16 chipped in 15 points, nine rebounds and two blocked shots. The Continentals enjoyed a 49-33 advantage on the boards. Joseph Lin '15 handed out a game-high six assists.

Keith Caiello paced the Wildcats (2-3 overall) with 10 points and Ryan Gavin added nine. Nate Hudson contributed eight points and six rebounds, and Avery Wilmore was credited with four steals. Cazenovia finished with 10 steals as a team, which helped contribute to 16 Hamilton turnovers.

The score was tied six times in the first half, including 18-18 after a Gavin 3-pointer with 7:07 left. The Continentals took the lead for good with a 10-1 run that opened up a 28-19 cushion. Zander Wear '18 started the spurt with a jumper and Donnelly drained a 3-pointer. After Gavin went 1-for-2 at the free-throw line, Santos made a jumper and Donnelly capped the run with another basket from long range with 5:00 remaining.

Hamilton opened up its biggest lead at 11 points late in the half. Lin made a jumper with 1:46 to go and then beat the buzzer with another basket that made it 35-24 at the break.

The Continentals led by double digits most of the second half. The Wildcats cut their deficit to seven points at 48-41 on a Caiello layup with 8:15 left but made just two baskets the rest of the way. Hamilton's lead ballooned to 21 points at 64-43 on a Wes Wilbur '17 3-pointer in the final minute.

The Continentals host Vassar College for another non-conference contest on Saturday, Dec. 6, at 4 p.m.