Hot shooting leads men's basketball to ninth victory
---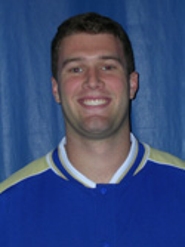 Pat Sullivan '12 scored a career-high 30 points to lead Hamilton College to a 96-71 win over Vassar College in a non-conference game at Hamilton's Margaret Bundy Scott Field House on Dec. 10.

Sullivan was 12-for-15 from the floor, including 5-for-6 from behind the arc, and led the Continentals with nine rebounds. Sullivan moved into 19th place on the team's all-time scoring list with 1,227 points. The last time a Hamilton player scored 30 or more points was Feb. 25, 2006.

Ken Click '13 scored a season-high 15 points on 7 of 10 shooting. Greg Newton '14 added 12 points to go along with a career-high eight assists. Ephraim McDowell '12 hit three 3-pointers and scored a season-high 11 points -- all in the second half -- in his first start of the year. Joseph Lin '15 dished out five assists.

Johnny Mrlik '15 led the Brewers with 18 points, Jon Herzog '13 chipped in 12, and Sam Rappaport '14 added 11. Alex Snyder '15 led the team with nine rebounds.

Vassar (4-3 overall) took a 2-0 lead on a jumper by Herzog with 18:28 remaining in the first half. But Sullivan hit a 3-pointer with 17:46 left, and Hamilton never trailed again. The Brewers tied the score at 9-9 when Snyder made a layup with 14:16 on the clock. The Continentals responded with an 8-0 spurt to take a 17-9 lead with 12:45 left.

Herzog tied the score again at 26-26 on a 3-pointer with 7:45 remaining. Following a timeout, Hamilton scored the next 11 points to take a 37-26 lead. Peter Kazickas '15 sparked the run with a layup with 7:31 left. Sullivan then scored the next seven points, hitting a jumper, a 3-pointer and a layup. Newton capped the spurt with a layup with 4:58 remaining.

A jumper by Evan Carberry '14 pulled Vassar within 44-38 with 19 seconds left, but Sullivan hit a 3-pointer just before the halftime buzzer to give the Continentals a 47-38 lead at the break. Sullivan finished the half with 20 points.

Hamilton (9-1) scored the first five points of the second half, and led by double digits the rest of the way. The closest the Brewers got was 10 points following a pair of free throws by Ethan Shanley '12 with 11:47 left.

Hamilton shot 63 percent from the floor, and was 12-for-17 (70.6 percent) from beyond the arc. The Continentals held a 34-25 advantage in rebounds. Hamilton has won nine straight games against Vassar, and leads the all-time seris 23-2. The 96 points for Hamilton are the most for the Continentals since they defeated Mount Saint Vincent 107-93 on Nov. 21, 2008.

Hamilton travels to New York University for a non-conference game on Friday, Dec. 30, at 8 p.m.