Men's basketball cruises to win at SUNY Cobleskill
---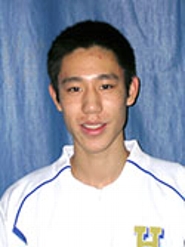 Hamilton College's Matt Hart '16 led four Continentals in double figures and Hamilton never trailed in an 83-69 triumph over SUNY Cobleskill in a non-conference game at Cobleskill's Iorio Gymnasium on Jan. 23.

Hart, who ranks fourth in scoring among all Division III freshmen, poured in 16 points and led the team with seven rebounds and five steals. Joseph Lin '15 tied his career high with 13 points off the bench and Greg Newton '14 added 12. Peter Kazickas '15 tallied nine points -- all in the first half -- and pulled down six boards. Hans Schulte '13 handed out a season-high six assists.

Kareem Bernard notched a game-high 19 points and Alexis Nunez contributed 18 points for Cobleskill. Tyrone Mitchell and Travis Woods grabbed eight rebounds apiece, and Mitchell was credited with four steals.

Hamilton (9-10 overall) jumped out to a 6-0 lead and led the entire way. The Fighting Tigers closed the gap to 8-6, but the Continentals exploded for a 17-1 run that spanned just 3 minutes, 2 seconds to go up 25-7. Schulte started the spurt with a jumper, followed by back-to-back 3-pointers by Hart and Schulte. After Hart nailed a basket, Newton drained a trifecta and Lin made two baskets.

Cobleskill (4-13) cut its deficit to single digits at 33-24 after two buckets by Bernard. The Continentals responded with seven straight points and extended their lead to 40-24 with 6:41 remaining in the half. The Fighting Tigers closed out the half on a 9-2 run, and Hamilton took a 42-33 lead into the locker room.

The Continentals shot 51.5 percent in the first half, including 6 of 12 from beyond the arc. Cobleskill stayed close with hot shooting by Bernard, who scored 13 points and was 3 of 4 from long range in the opening half.

In the second half, Hamilton used an 8-0 spurt and matched its largest lead at 60-42. A shot from beyond the arc by Hart and a three-point play for Lin fueled the run. The Fighting Tigers scored 11 of the next 13 points and pulled back within single digits at 62-53 with 8:30 left. But baskets by Jack Donnelly '16 and Hart put the Continentals up by double digits for good.

"Cobleskill made it a very fast-paced game and we responded by taking care of the ball and sharing it," Hamilton head coach Adam Stockwell said. "It was a hard-fought road win with contributions from several different players."

Cobleskill was able to get the Hamilton lead back down to 10 points with 1:23 to go. But Lin and Hart combined to go 6-for-6 at the charity stripe in the final 77 seconds to seal the win.

The Continentals shot 50 percent (31-62) overall, including 47 percent (8-17) from 3-point range. Cobleskill shot 45 percent (23-51) from the floor, including 46.7 percent (7-15) from long range.

Hamilton was able to sustain a double-digit lead for most of the night by making 13 steals that helped cause 23 Cobleskill turnovers. The Continentals scored 30 points off those turnovers. Hamilton leads the NESCAC with an average of 7.2 steals per contest. The Fighting Tigers held a slight advantage on the glass, 33-31.

The Continentals return to the court for a non-conference game at home against SUNY Oneonta on Tuesday, Jan. 29.