Men's basketball defeats St. Lawrence
---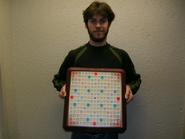 Pat Sullivan '12 scored a game-high 21 points to lead Hamilton College to a 65-60 win over St. Lawrence University in a Liberty League game at Hamilton's Margaret Bundy Scott Field House on Feb. 12.
Sullivan grabbed five rebounds and had two steals. Ephraim McDowell '12 tallied 15 points, handed out four assists and had two steals. Jay Simpson '10 contributed 12 points, four assists and two steals. Ken Click '13 brought down a team-high six rebounds, scored nine points and blocked two shots. Joe Manns '10 made four of Hamilton's 12 steals as the Continentals helped force 21 St. Lawrence turnovers.
St. Lawrence (11-11 overall, 7-4 Liberty) hit a jumper with 13:26 left in the first half to take a 10-5 lead. Layups by Sullivan and Simpson followed by a 3-pointer by Click gave the lead back to the Continentals at 12-10.

Hamilton (9-12, 5-6) led by as many as six in the opening period after a jumper by Eric Benvenuti '13 made the score 16-10 with 7:09 remaining. The Saints took the lead back with an old-fashioned 3-point play with 3:58 left. A 7-2 run by Hamilton sent the teams to their locker rooms with the Continentals up, 24-20.

Hamilton still led 28-23 early in the second half, but the Saints roared back with a 9-2 run. St. Lawrence drained a 3-pointer for a 32-30 advantage. The Saints made it a six-point cushion with 9:52 remaining after they hit a layup to make the score 40-34.

Hamilton heated up from outside in the final 10 minutes as the Saints remained in their 2-3 zone for most of the contest. Two 3-pointers by Simpson sandwiched around a Saints free throw cut the St. Lawrence lead to 41-40.

After a layup by St. Lawrence and a basket by McDowell, Simpson hit from long range again as the Continentals took the lead for good at 45-43 with 6:47 left. Manns followed with a 3-pointer, and after two free throws by the Saints, it was McDowell's turn. Finally, a jumper by Sullivan completed a 19-5 run and gave Hamilton a 53-45 lead with 4:36 remaining.

St. Lawrence didn't get within four points the rest of the way. The Continentals went 12-for-16 at the line in the final 84 seconds to ice the victory.
The Continentals shot 36 percent from the field and 26 percent from behind the arc. Hamilton made 17 of 21 free throws. The Saints shot 38 percent from the floor and 29 percent from 3-point range. St. Lawrence went 16-for-21 at the charity stripe.
Hamilton will host Clarkson University for another league game on Saturday, Feb. 13.