Men's basketball defeats Hobart in Liberty League opener
---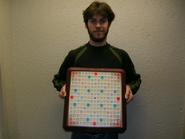 Pat Sullivan '12 scored 22 of his career-high 24 points in the second half as Hamilton College came back from an eight-point deficit to defeat visiting Hobart College 68-66 in a Liberty League game at Margaret Bundy Scott Field House on Jan. 9.

Sullivan added a game-high nine rebounds. He was 8 of 16 from the field, including 2-for-2 from 3-point range. Joe Manns '10 chipped in 14 points and three assists off the bench. Ephraim McDowell '12 was a perfect 3 of 3 from long range and finished with 12 points. As a team, Hamilton shot 60 percent (9-15) from beyond the arc.

A 3-pointer by McDowell broke a 62-62 tie with 1:07 left. A Hobart layup with 47 seconds remaining made it a one-point game, but the Continentals went back up by three on a Sullivan layup 30 seconds later. The Statesmen missed a 3-pointer on their next possession and Sullivan grabbed the defensive board. He made 1 of 2 free throws for a 68-64 lead with seven seconds left. Hobart made a jumper as time expired to account for the final score.

Hobart (6-5 overall, 0-1 Liberty) opened the second half with an 8-2 run and led 37-29 with 16:04 left. Hamilton (5-5, 1-0) didn't hold the lead again until Sullivan drained a 3-pointer to make the score 44-42 with 9:54 remaining. The Continentals shot 56 percent from the field in the final 20 minutes, including 5 of 7 from 3-point range. Hobart shot 53.2 percent from the floor for the game, and a red-hot 61 percent (14-23) in the second half.

Neither team led by more than four points in a first half that featured six ties. The Statesmen had a 29-27 lead at the break. Hamilton has won the last five meetings with the Statesmen and the Continentals lead the all-time series, 93-52.

Hamilton travels to Union College for another league game on Friday, Jan. 15.