Men's basketball defeats Skidmore
---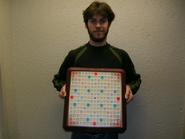 Pat Sullivan '12 recorded game highs of 21 points and nine rebounds to lead Hamilton College to a 64-45 rout of Skidmore College in a Liberty League game at Margaret Bundy Scott Field House on Feb. 5.

Hamilton (8-10 overall, 4-4 Liberty) snapped a three-game losing skid and gave head coach Tobin Anderson his 100th win with the Continentals. Anderson is 100-50 at Hamilton. The Continentals shot 58 percent (22-38) from the field, including 5 of 9 from 3-point range, and 75 percent (15-20) at the free-throw line.
Russ Rosenband '12 was the only other Hamilton player in double figures with 10 points off the bench. Ephraim McDowell '12 contributed eight points. Jay Simpson '10 added seven points and two assists. Dayne Harris '11 grabbed five rebounds and tallied six points. Ken Click '13 also added six points.
The Thoroughbreds (13-7, 6-3) finished with 19 offensive boards. Skidmore's 10 steals helped force 20 turnovers by the Continentals, but the Thoroughbreds shot a paltry 24 percent (13-54) from the floor. Skidmore was just 5 of 25 from long range.

The score was tied four times in the early going, including 17-17 with 9:16 left in the first half. Hamilton then went on an 11-0 run and held the lead the rest of the way. The run featured seven points by Sullivan. The Continentals took a 31-21 advantage into the break.
Hamilton's lead fluctuated between eight and 20 points throughout the second half, as Skidmore couldn't get its offense on track. Skidmore hit a 3-pointer 3:22 into the second half to cut its deficit to eight points at 36-28, but that was as close as the Thoroughbreds could get. The Continentals responded with a jumper by McDowell and a 3-pointer by Sullivan to go back up by 13.
Skidmore pulled within 10 with 4:21 remaining, but a jumper by Rosenband made the score 52-40. The Thoroughbreds made one free throw, and then Hamilton connected on four free throws to put the Continentals back up by 15 at 56-41. A 3-pointer by Sullivan with 48 seconds left gave Hamilton its largest lead at 64-44.

The Continentals lead the all-time series, 35-7. Hamilton hosts Union College for another league game on Saturday, Feb. 6.