Men's basketball downed by No. 5 Amherst
---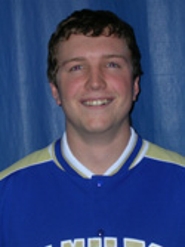 Aaron Toomey scored 17 points to lead nationally ranked No. 5 Amherst College to an 85-68 win over Hamilton College in a NESCAC game at Amherst's LeFrak Gymnasium on Jan. 13.

Toomey also grabbed five rebounds and dished out four assists. Taylor Barrise chipped in 15 points, and Jeff Holmes added 15 off the bench for the Lord Jeffs. Willy Workman scored 10 points and grabbed a game-high nine rebounds.

Matt Dean '14 led the Continentals with a career-high 13 points and five rebounds. Greg Newton '14 scored 11 points to go along with five assists, and Ken Click '13 added 10 points and three blocks. Joseph Lin '15 grabbed five rebounds and handed out four assists.

Hamilton (11-5 overall, 1-2 NESCAC) led 23-20 with 10:58 left in the first half following a jumper by Newton. But a 3-pointer by Toomey with 10:08 remaining pulled Amherst even, and the Continentals didn't lead again.

Workman hit a pair of free throws to give Amherst a 38-33 lead with 2:55 left in the half. But Ephraim McDowell '12 sank a 3-pointer to pull the Continentals within 38-36 with 2:05 remaining. The Lord Jeffs scored the final six points of the half to build a 44-36 advantage at the break. Amherst shot 60.7 percent during the first 20 minutes.

Toomey drained a 3-pointer on the first possession of the second half to cap a 9-0 Amherst run to make it 47-36. Dean responded with a 3-pointer, followed by a free throw by Newton to pull Hamilton within 47-40. But that was as close as the Continentals could get, as the Lord Jeffs led by as many as 22 points with 5:59 remaining.

Amherst (13-1, 3-0) won its fifth straight game. The Lord Jeffs held a 44-32 rebound advantage, and shot 46.2 percent from the floor. Hamilton shot 42.6 percent from the floor and was 10-for-16 (62.5 percent) at the line.

Hamilton travels to Trinity College for a NESCAC game on Sunday, Jan. 15, at 4 p.m.