Men's basketball drops game to Clarkson
---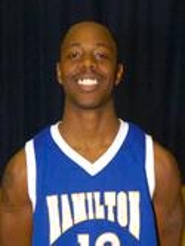 Clarkson University shot 73.7 percent from the field in the second half as the Golden Knights pulled away for a 64-52 win against Hamilton College in a Liberty League game at Hamilton's Margaret Bundy Scott Field House on Feb. 13.

Jay Simpson '10 paced Hamilton with a game-high 22 points. Pat Sullivan '12 contributed 13 points and a game-high nine rebounds. Jon Ciriello '11 grabbed six rebounds.

The Continentals (9-13 overall, 5-7 Liberty) committed just eight turnovers, but shot 32 percent from the floor, including 2 of 20 from 3-point range. Hamilton made 16 of 18 free throws (89 percent). The Golden Knights held a 34-28 advantage in rebounds.

Clarkson (13-10, 6-6) took the lead for good with 10:54 remaining in a sluggish first half when the Golden Knights made a layup for a 6-4 advantage. Clarkson made it 8-4 with a jumper a little more than a minute later. The Golden Knights led 23-17 at the break as they drained a long 3-pointer just before the horn went off to end the half.

The Continentals opened the second half on a 10-5 run that ended with a 3-pointer by Eric Benvenuti '13 to pull Hamilton within one point at 28-27 with 15:15 remaining. The Continentals were still within four points at 41-37 with 8:19 remaining, but Clarkson scored the next seven points to take control of the game. The Golden Knights led by at least nine points the rest of the way.

Hamilton still leads the all-time series, 66-18. Both teams are still alive in the hunt for a league tournament bid with two games left as three teams are tied for first place at 8-4 and Hobart College is fourth with a 7-5 league record.

The Continentals travel to Vassar College for another league game on Friday, Feb. 19.