Men's basketball drops road game to SUNYIT
---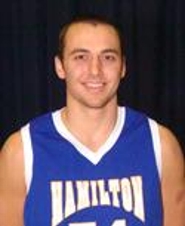 Hamilton College jumped out to a 17-point lead in the first half, but fell 82-69 to host SUNY Institute of Technology in a non-league game played at the Campus Center Gymnasium on Nov. 30.
The Continentals (2-2 overall) were led in scoring by Dayne Harris '11, who recorded 15 points and added a team-high eight rebounds. Pat Sullivan '12 tallied 14 points and had two steals. Jay Simpson '10 also reached double figures with 10 points and passed out six assists. Joe Manns '10 added nine points and four assists, and Eric Benvenuti '13 chipped in eight points off the bench.

Hamilton came out on fire in the first half. The Continentals made nine of their first 10 shots, including three from three-point range -- one by Simpson and two by Tim Shaw '10 -- to take a 21-4 lead with 14:14 left in the half.

SUNYIT (4-0) answered with its own 21-4 run over the next seven minutes to tie the score at 25-25 with 6:59 left before the half. The lead exchanged once more for each team before they headed into the break tied at 36.

The Wildcats came out strong in the second half, shooting 64 percent from the field (14-for-22), including 7-of-14 from beyond the arc. The Wildcats also reached the free throw line 17 times in the half, and made 11 of them.

The Continentals took a one-point lead at 39-38 with 18:03 remaining after another Simpson three-pointer, but the Wildcats scored the next five points and never trailed again. Hamilton climbed back to within one possession one last time at 66-63 on a Sullivan jumper with 5:02 left. SUNYIT ended the game with a 16-6 run.

The Continentals return to action on Wednesday, Dec. 2, when they travel to Utica College to play another non-league game at 7 p.m.