Men's basketball drops game to Union
---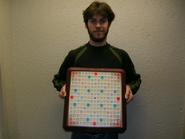 Union College shot 58 percent from the field in the second half, and the Dutchmen defeated Hamilton College 58-40 in a Liberty League game at Hamilton's Margaret Bundy Scott Field House on Feb. 6.

Pat Sullivan '12 paced the Continentals with eight points and four rebounds. Jay Simpson '10 added six points and three rebounds. Eric Benvenuti '13 and Joe Manns '10 contributed five points apiece. Hamilton (8-11 overall, 4-5 Liberty) shot 24 percent from the field, including 3 of 15 from 3-point range.

The Dutchmen (10-10, 6-4) trailed 28-24 at the half, but outscored the Continentals 34-12 in the final 20 minutes. Union made 15 of 26 shots in the second half, while Hamilton was a chilly 10.7 percent (3-28). The Continentals missed all nine of their 3-point attempts after the break.

Hamilton trailed 5-4 early, but took control with a 9-0 run for a 13-5 lead with 11:13 left in the first half. Benvenuti scored all five of his points during the run. The Dutchmen clawed back to within one point at 25-24 with 1:08 remaining when they tipped in a missed layup. A 3-pointer by the Continentals' Russ Rosenband '12 with 46 seconds left accounted for the halftime score.

Union took the lead for good with a 9-0 run to open the second half. The Dutchmen made two baskets, 1 of 2 free throws, a layup and then a jumper with 14:33 remaining for a 33-28 advantage. Hamilton was still within 37-35 after a 3-point play by Tim Shaw '10 with 11:28 left, but the Dutchmen scored the next 11 points to clinch the victory.

The Continentals still lead the all-time series, 77-72. Hamilton travels to Hobart College for a league game on Tuesday, Feb. 9.