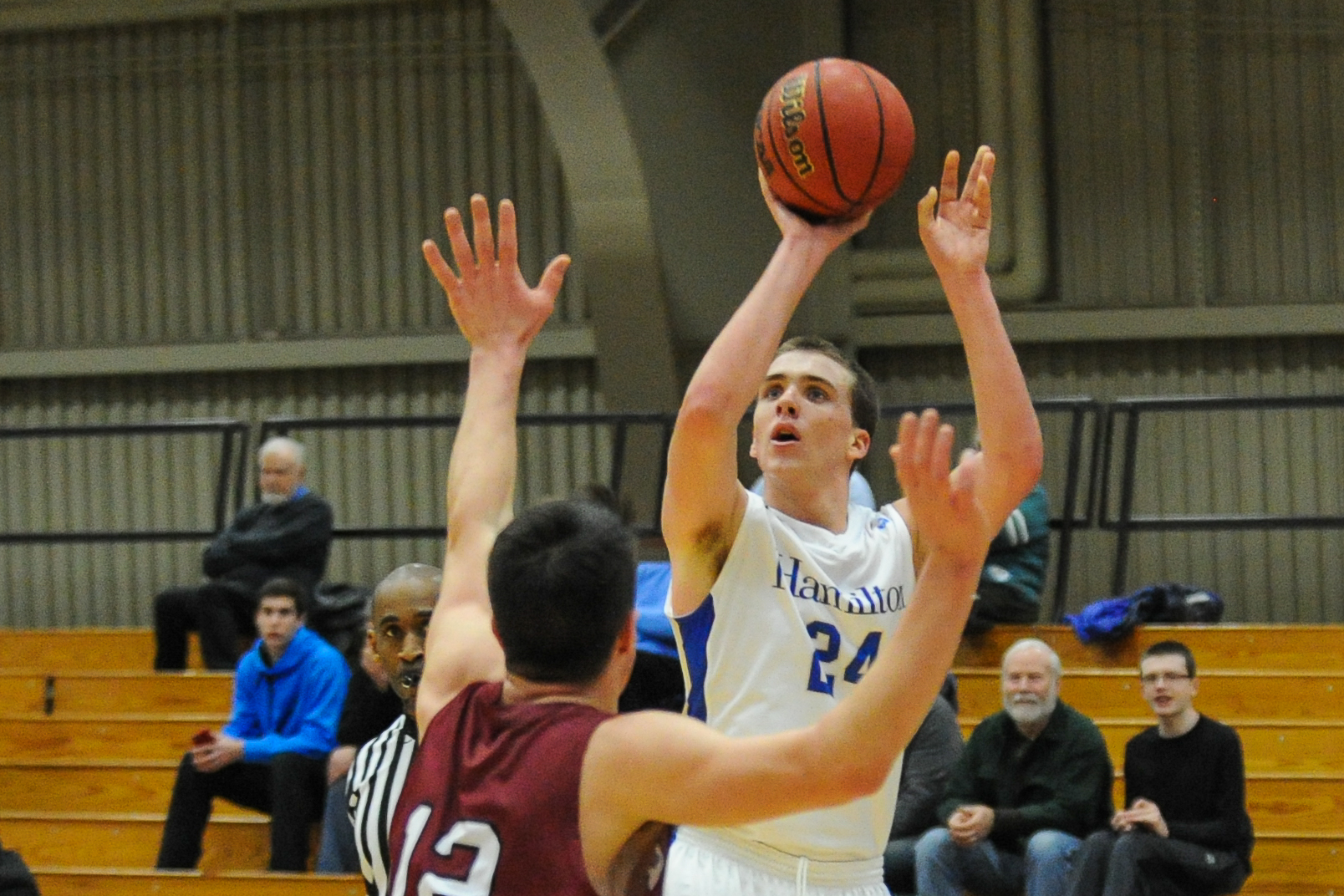 Williams College shot 60 percent from the floor in the second half and the Ephs rallied for a 73-63 NESCAC win against the Hamilton College Continentals at Williams' Chandler Gym on Friday night.

Box Score

The Ephs (12-5, 3-2 NESCAC) trailed by six at the half but made 5 of 8 shots from 3-point range and went 17-for-22 (77.3 percent) at the free-throw line in the final 20 minutes.

Hamilton (8-9, 0-5) led for a good portion of the first 34 minutes as the Continentals committed just six turnovers. Hamilton shot 38.5 percent from the field in the second half after an impressive performance in the opening 20 minutes.

Peter Hoffmann '19 went 9-for-12 at the line and paced the Continentals with 19 points. Hoffmann leads Hamilton in scoring with 13.5 points per game.

Michael Grassey '19 poured in a season-high 17 points in just 18 minutes off the bench for the Continentals. Grassey made all three of the team's 3-pointers.

Andrew Groll '19 chipped in 15 points and six rebounds, and Jack Dwyer '18 handed out a game-high seven assists and played all 40 minutes for Hamilton. Groll is averaging 17.5 points in the last four games. Dwyer leads the NESCAC with 5.4 assists per contest.

Williams' Daniel Aronowitz led all players with 25 points and Kyle Scadlock added 16 to go along with three blocked shots. Cole Teal dropped in 12 points and Edward Flynn contributed eight points and a game-high 11 rebounds.

The Continentals led 49-43 with 11:03 left after Karl Koster '18 nailed a jumper. The Ephs followed with a 15-4 run during the next seven minutes and took the lead for good. Aronowitz started the spurt with a 3-pointer and Flynn made 1 of 2 free throws. Hoffmann put Hamilton back up by four at 51-47 on a layup with 9:04 remaining but Aronowitz scored in the paint and Teal nailed a shot from beyond the arc to give the hosts their first lead since 3:40 was left in the first half.

A jumper by Groll gave the Continentals the lead again at 53-52 with 5:34 to go but Teal capped Williams' run with a pair of 3-pointers and the Ephs held a 58-53 advantage with 4:18 left. Teal ended up 4 of 5 from beyond the arc.

Two free throws one minute apart by Hoffmann made it a one-possession game before Scadlock drained a shot from 3-point range and Aronowitz dunked. Aronowitz made two free throws for a 65-55 Williams lead with 1:41 remaining. Hamilton didn't get closer than eight points the rest of the way.

The Continentals scored the first seven points of the first half and that turned out to be their largest lead of the night. Hamilton still led 12-8 midway through the first half when the Ephs scored 10 straight points and held an 18-12 advantage. The Continentals countered with a 9-2 run thanks to five points by Groll and they went back in front, 21-20.

Five consecutive points by Aronowitz were followed by eight straight by Hamilton and the Continentals led 29-25 with 2:24 to go. Hamilton went on to take a 33-27 advantage at the break after a steal and layup by Hoffmann with 23 seconds left.

The Continentals travel to Keystone College for a non-conference game on Monday, Jan. 25, at 7:30 p.m.