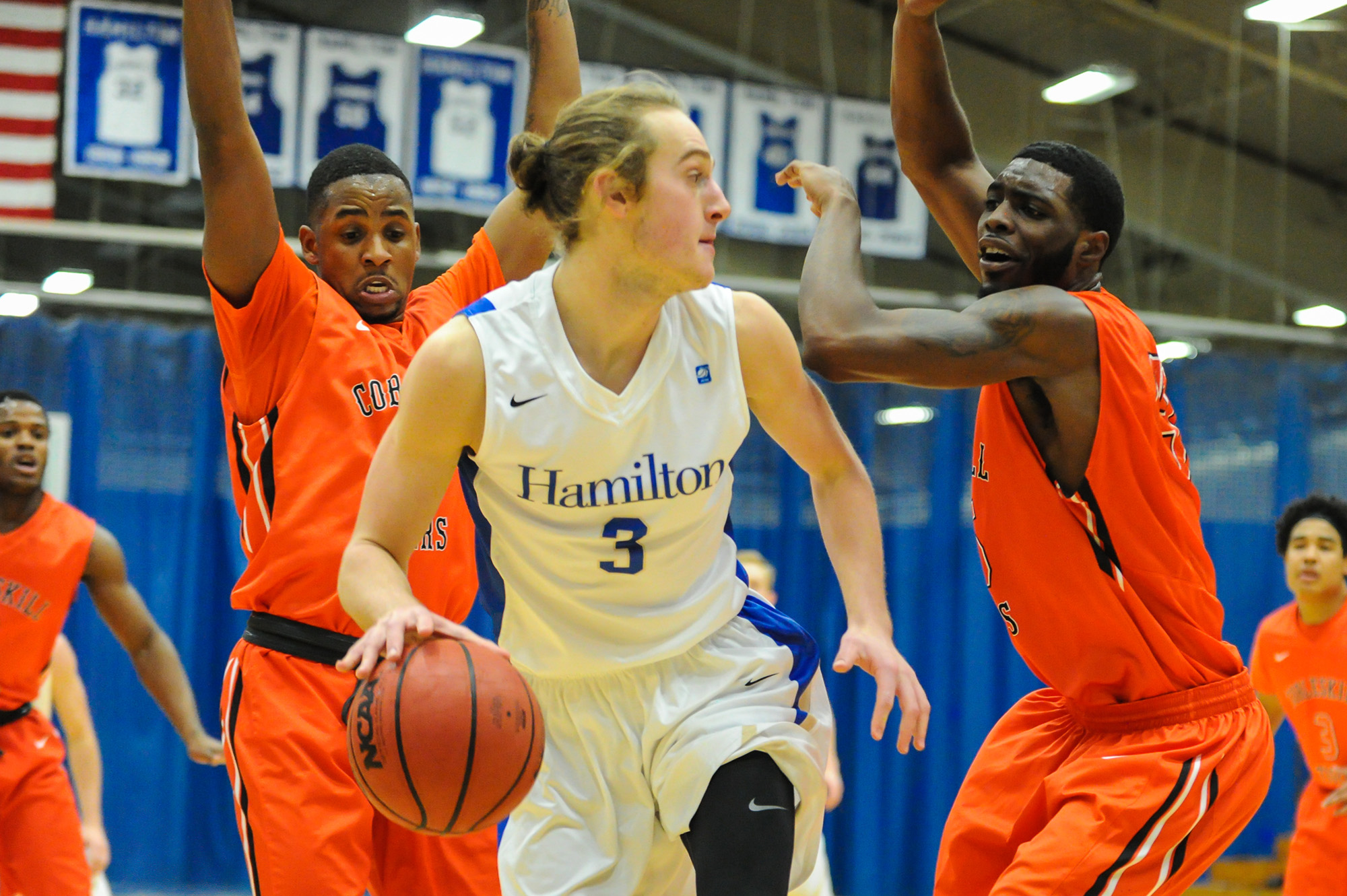 Vassar College shot 55 percent from the floor in the second half and the Brewers posted a 74-63 non-conference win against the Hamilton College Continentals at Vassar's Athletics and Fitness Center on Saturday afternoon.

Box Score

Joe Pucci '18 led Hamilton (4-3 overall) with 13 points and Peter Hoffmann '19 added 10. Wes Wilbur '17 chipped in eight points and eight rebounds off the bench as the Continentals held a 30-12 advantage in bench points.

Hamilton grabbed 17 offensive rebounds and turned the ball over just four times but shot 32 percent from the field, including 3 of 21 from beyond the arc. The Continentals still lead the all-time series 24-4 after the Brewers have won the last two games against Hamilton. All of the Continentals' previous six games were decided by single-digit scoring margins.

Vassar (3-3) received 22 points and three blocked shots from Paul Grinde, who was 8 of 10 from the floor and made all six of his free-throw attempts. Erikson Wasyl dropped in 18 points and handed out six assists, and Tony Caletti dished out seven assists.

The Brewers held a 38-24 cushion in points in the paint. Vassar shot 52 percent from the field for the afternoon, including 9 of 19 from 3-point range.

The teams combined for six lead changes and three ties in the opening eight minutes. Two free throws by Wilbur gave Hamilton its last lead at 13-12 with 12:59 left in the half. A 3-pointer by the Brewers' Jesse Browne 30 seconds later put Vassar in the lead for good at 15-13.

The Brewers' lead fluctuated between two and eight points the rest of the half. Vassar was up 38-30 with a minute to go but baskets by Kyle Pitman '17 and Jack Dwyer '18 pulled the Continentals within four points at 38-34 at the break.

The Brewers took their first double-digit lead at 50-40 on a steal and layup by Mickey Adams with 15:13 remaining. Hamilton clawed back to within four points at 54-50 on a jumper by Pucci with 8:29 left but Vassar scored the next six and regained its double-digit lead. Grinde made a basket from in close, Alex Seff finished a fast-break opportunity and Grinde capped the spurt with a layup with 6:32 remaining.

The Continentals couldn't get closer than six points the rest of the way. The Brewers opened up a 16-point lead twice in the final two minutes.

Hamilton hosts Hobart College -- another former Liberty League foe -- at Margaret Bundy Scott Field House on Thursday, Dec. 10, at 7 p.m.