Men's basketball drops road game to Clarkson
---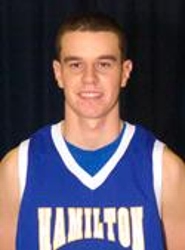 Clarkson University defeated Hamilton College, 53-40, in a Liberty League game played at Clarkson's Alumni Gymnasium on Jan. 29.
Ephraim McDowell '12 led the Continentals (7-9 overall, 3-3 Liberty) with 10 points and added two assists off the bench. Ken Click '13 tallied six points, and Pat Sullivan '12 and Jon Ciriello '11 pulled down six rebounds apiece.
Clarskon (10-6, 4-2) scored the first seven points and never trailed. The Continentals didn't get on the scoreboard until 14:37 remained in the first half when McDowell finally buried a jumper from the baseline. A 3-pointer by McDowell cut Hamilton's deficit to five at 18-13, but the Golden Knights scored the next seven points to take a double-digit lead. Clarkson went into the break ahead 25-15.

Hamilton continued to struggle early in the second half as the Continentals didn't get their first field goal until Jay Simpson '10 connected on a layup with 16:45 remaining. Hamilton pulled within eight points at 28-20 with 14:03 left when Click hit a jumper, but Hamilton didn't get any closer the rest of the game. Clarkson stretched its lead to as many as 19 points at 46-27 with 6:39 remaining.
Hamilton shot 24 percent from the field and 56 percent (9-16) at the free-throw line. Clarkson shot 37 percent from the floor and went 14-for-23 at the charity stripe.

The Continentals play another league game at St. Lawrence University on Saturday, Jan. 30.