Men's basketball drops road game to Middlebury
---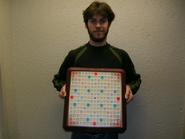 Nationally ranked No. 7 and undefeated Middlebury College relied on a stifling defense to post a 62-47 win against visiting Hamilton College in a non-league game played at Pepin Gym on Jan. 2.
Middlebury (9-0 overall) held the Continentals to 22.9 percent shooting from the floor in the second half and 25.8 percent for the game. Hamilton (4-4) was aiming for its third straight win, including the team's second away from home this week.
Pat Sullivan '12 paced Hamilton with 13 points and nine rebounds. Ephraim McDowell '12 added eight points. Jay Simpson '10 chipped in six points and swiped a game-high three steals. Dayne Harris '11 and Jon Ciriello '11 brought down five rebounds apiece.

Middlebury opened the first half with six straight points. Hamilton battled back to tie the score 6-6 with 15:50 left. The Continentals took their first lead with 13:16 remaining on a layup by Hugh Hunter '13, and followed a Panther miss with a bucket by Ken Click '13 for a 13-10 advantage with 12:51 left.

Middlebury responded with a 7-0 run over the next three minutes to build a 17-13 lead with 9:51 remaining. The Panthers held a small lead through the next several minutes before Sullivan hit a jumper to cut the Continentals' deficit to 24-23 with 56 seconds left in the first. Simpson hit a pair of free throws with 30 ticks left to give Hamilton a 25-24 lead.
Middlebury moved in front 27-25 with 15 seconds left on a 3-pointer. In the final seconds, Simpson was fouled while driving to the hoop for the equalizer. He hit both attempts and sent the teams to intermission locked at 27-27.
Hamilton cracked open their largest lead at 38-33 on a 7-0 burst early in the second half. A three by McDowell with 12:30 left capped the run. The Panthers answered again with their own 11-0 run over the next four minutes.

The Panthers' lead grew to 11 points before a three by Russ Rosenband '12 set the score at 55-47 with 3:15 left. The Continentals' deficit could have been cut to six after Simpson stole the ball and dashed to the hoop for a lay-in, but the ball rattled out. In transition, Middlebury hit a 3-pointer to restore the 11-point cushion with 2:45 remaining, and thwarted Hamilton's comeback attempt.

The Continentals return to action on Tuesday, Jan. 5, when they host Connecticut College for another non-league game at 7 p.m.