Men's basketball drops road game to Skidmore
---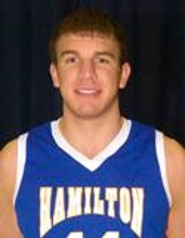 Skidmore College jumped out to a 40-20 lead at the half, and the Thoroughbreds cruised to a 74-58 win against Hamilton College in a Liberty League game at Skidmore's Sports and Recreation Center on Jan. 16.

Dayne Harris '11 led all scorers with 19 points for Hamilton (5-7 overall, 1-2 Liberty). Max Shillalies '11 pulled down a game- and career-high 10 rebounds for the Continentals. Jay Simpson '10 contributed nine points, and Ephraim McDowell '12 tallied seven points and passed out three assists.
The two teams battled back and forth through the first six minutes, and Hamilton held an 11-10 lead after a jumper by Jon Ciriello '11. The Thoroughbreds (10-4, 3-0) responded with a 15-2 run and never trailed again.
Hamilton scored the first five points of the second half as Harris connected on a free throw and then hit a jumper to cut the Skidmore lead to 40-25. The Thoroughbreds wouldn't let Hamilton get any closer as Skidmore ran off an 11-1 spurt for a 25-point cushion with 14:00 left.
Skidmore scored 21 points off 16 Continental turnovers. Hamilton shot 38 percent from the field, while Skidmore shot 39 percent.
The Continentals return to action on Friday, Jan. 22, when they host Rensselaer for a league game at 8 p.m.