Men's basketball earns share of regular season title
---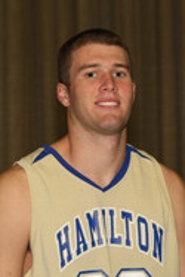 Hamilton College earned a share of the Liberty League regular season title with a 56-47 win against Union College at the Viniar Athletic Center on Feb. 21.
Hamilton (18-6 overall, 12-2 Liberty) and St. Lawrence University finished the regular season with identical league records. St. Lawrence is the top seed and will host the four-team Liberty League championship tournament, as it won both games against Hamilton this season.
Hamilton is the No. 2 seed and will face No. 3 Rensselaer on Friday, Feb. 27, in a tournament semifinal at a time yet to be determined. Union (13-11, 6-8) was knocked out of the playoffs by defending tournament champion Clarkson University. Clarkson is the fourth seed and will take on St. Lawrence in the other semifinal.
Patrick Sullivan '12 led all Continentals with 11 points in the win. Harlee Wood '09 and Ephraim McDowell '12 each finished with 10 points. Wood added a team-high eight rebounds, four assists and four steals. He is 26th on the team's career list with 1,083 points. Lance Wilson '11 added nine points and eight rebounds.
The visitors took a slim 32-28 advantage into halftime. Union scored the first five points of the second half to take its second and final lead of the game at 33-32. A Sullivan free throw marked the game's fourth tie, and Hamilton went on to build a seven-point advantage. McDowell scored five points on back-to-back jumpers in the 10-2 spurt that gave the Continentals a 42-35 lead with 12:33 left.
Union battled back to cut its deficit to two twice in the final seven minutes. Hamilton led 49-47 with 2:53 to go, but went 5-for-8 at the free-throw line and added a layup to help pull away down the stretch.
The Continentals held the Dutchmen to 24 percent accuracy from the floor in the second half and 29 percent for the game. Hamilton enjoyed a 39-31 edge in rebounds. Union sank all 14 of its free-throw attempts while Hamilton was accurate on just 14 of 24 shots at the line.