Men's basketball edged at Hobart
---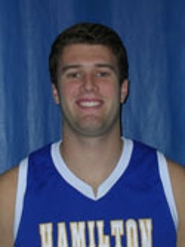 Hobart College went 6-for-6 at the free-throw line in the last 20 seconds to hold off a Hamilton College rally and edge the Continentals 65-62 in a Liberty League game at Hobart's Bristol Gym on Jan. 10.

Blair Helton came off the bench to lead the winners with 16 points in just 18 minutes. Tim Llewellyn drained five 3-pointers and finished with 15 points. Mark Bruce made four clutch free throws down the stretch and added 10 points and three steals. Richie Bonney grabbed a game-high 11 rebounds. Bonney's layup with 2:54 left broke a 55-55 tie, and gave the Statesmen the lead for good.

Pat Sullivan '12 posted his second straight double-double with 18 points and 10 rebounds for Hamilton. Ryan Wright '14 scored 12 points, Ephraim McDowell '12 had 11 and Matt Dean '14 recorded 10 to go with three steals in his first start.

After Bonney's basket, neither team scored again until Stefan Thompson sank a jumper to give Hobart a 59-55 advantage with 38 seconds remaining. A 3-point play by Sullivan pulled the Continentals back within one with 26 seconds left. Thompson was fouled and made both free throws for a 61-58 lead with 20 seconds remaining.

Wright came down and made a layup to again draw Hamilton within a point with 10 seconds left. Bruce was fouled and canned both shots with eight ticks remaining. Leading by three, the Statesmen opted to foul instead of allowing the Continentals to attempt a game-tying 3-pointer. Wright was fouled with five seconds left and made both free throws to make the score 63-62.

Just one second came off the clock when Bruce was fouled again, but he made both shots again to account for the final margin. Hamilton had one last gasp, but a 3-point attempt by Dean was off the mark just before the final horn sounded.

The Continentals (6-4 overall, 0-1 Liberty) held an early 4-2 lead, but Hobart ran off 10 straight points and took a 12-4 advantage. The lead grew to as many as 14 points at 20-6 midway through the first half, and the Statesmen took a 33-24 lead into the break.

Hobart (9-3, 1-0) still led by 10 at 46-36 midway through the second half, but Hamilton scored the next 10 points to tie the score. The Statesmen went back up by three at 51-48 before McDowell gave the Continentals their only lead of the second half. McDowell made a jumper and then knocked down a 3-pointer to put Hamilton up 53-51 with 5:28 left.

Hobart enjoyed a big advantage from beyond the arc as the Statesmen were 8 of 21, and the Continentals made just 2 of 14 from long range. Hobart has won three in a row.

Hamilton returns home to take on Union College for another league game on Friday, Jan. 14.