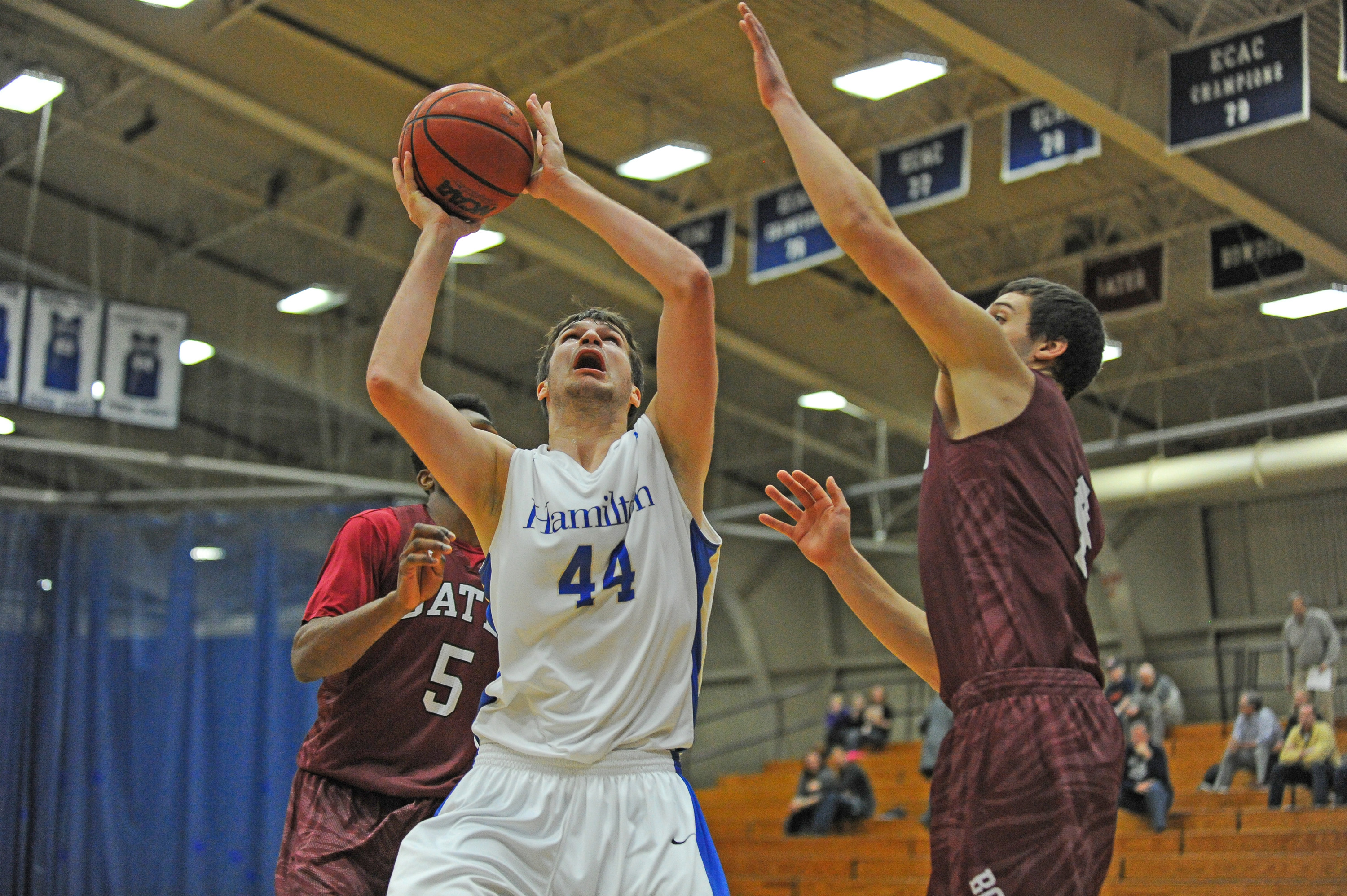 Bates College went on an 11-2 run late in the second half and the Bobcats rallied for a 67-62 NESCAC win against the Hamilton College Continentals at Hamilton's Margaret Bundy Scott Field House on Friday night.

Box Score

Bates (9-6, 2-1 NESCAC) scored 25 points off 15 turnovers by the Continentals. The Bobcats have won three of the last four meetings with Hamilton but the Continentals still lead the all-time series, 10-4.

Hamilton's Andrew Groll '19 posted his second double-double this season with 13 points and a game-high 10 rebounds. The Continentals held a 45-38 advantage on the boards. Groll added season-best totals of five blocked shots and three steals. He is third in the conference with 19 blocks.

Jack Dwyer '18 dropped in a game-high 14 points and handed out five assists for Hamilton (7-7, 0-3). Dwyer is second in the NESCAC with 5.2 assists per game. Michael Grassey '19 added 12 points and eight rebounds off the bench.

Mike Boornazian helped lead Bates with 12 points and seven rebounds. Malcolm Delpeche chipped in 12 points and twin brother Marcus Delpeche contributed 10 points and seven boards. Shawn Strickland filled the stat sheet with eight points, seven assists and three steals.

The contest was tight throughout as there were 10 lead changes, four ties and the largest lead for either team was eight points. The biggest advantage in the entire second half was six points and that wasn't reached until the last 4:30.

The Continentals held a 51-48 edge after Groll made a layup with 10:14 left. Hamilton managed just one field goal during the next six-plus minutes as the Bobcats made their move.

Malcolm Delpeche got it started with a layup and his brother Marcus gave Bates a 52-51 lead with another basket in the paint. Two free throws by Grassey put the Continentals back up by one with 6:10 remaining.

Josh Britten drained a 3-pointer and gave the Bobcats the lead for good at 55-53 with 5:44 to go. Boornazian and Mike Newton followed with buckets and Bates was up 59-53 with 4:30 left.

After a Hamilton timeout, Dwyer scored the next four points and pulled the Continentals within two at 59-57 with 2:50 remaining. Dwyer scored 13 points in the second half.

A 3-point play by Boornazian was answered with a pair of free throws by Dwyer and Hamilton trailed 62-59 with 2:09 to go. The teams traded one turnover apiece before Britten nailed the biggest shot of the night -- a 3-pointer just before the shot clock expired -- and Bates was up 65-59 with 36 seconds left.

Dwyer cut the Bobcat lead in half on his own trifecta with 24 seconds remaining and Britten closed out the scoring with two free throws one second later. Britten scored all eight of his points in the final six minutes.

In the first half, Bates jumped out to a 15-7 lead but the Continentals used a 16-2 spurt to take their largest lead of the night at 29-21 with 5:14 to go. The Bobcats got right back into it with an 11-1 run that put them ahead, 32-30, and they held a slim 35-34 lead at the break after Quin Leary made a 3-pointer with 10 seconds left.

Both teams struggled shooting the ball as Bates shot 38.7 percent from the floor and Hamilton shot 31.8 percent. The Continentals were playing without two of their top outside scoring threats -- Jack Donnelly '16 and Kyle Pitman '17.

Hamilton hosts nationally ranked No. 18 Tufts University for another conference game on Saturday, Jan. 16, at 3 p.m. The Bobcats travel to Middlebury College for more NESCAC action on Saturday at 3.