Men's basketball edged by Connecticut College
---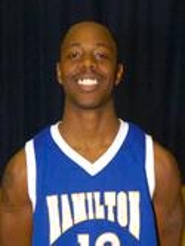 Connecticut College rallied from a 12-point second half deficit and the visiting Camels went on to a 70-65 non-league win against Hamilton College at Margaret Bundy Scott Field House on Jan. 5.
Jay Simpson '10 led the Continentals (4-5 overall) with a team-high 14 points and five assists. Pat Sullivan '12 added 12 points and brought down four rebounds. Jon Ciriello '11 also reached double figures in points with 11, and recorded two steals and a team-high five rebounds.
Hamilton led 32-28 at the half and held the lead for most of the second half. The Continentals started the second half with an 11-4 run for a 43-32 lead. The run featured two 3-pointers by Simpson and one by Ephraim McDowell '12.

Connecticut College (5-5) was able to cut its deficit to five at 48-43 with 10:55 left. Hamilton answered by scoring seven straight points -- five by Dayne Harris '11 -- to take its largest lead of the game at 55-43 with 8:24 remaining.
The Camels followed with a 14-2 run to tie the score at 57 with 5:05 remaining. McDowell and Sullivan each made a pair of free throws to put the Continentals back up by four. The Camels hit a 3-pointer with 2:17 left to cut Hamilton's lead to one at 61-60. Ciriello answered with his own 3-pointer to regain the four-point lead. With 1:29 left, Connecticut College drained another shot from behind the arc to pull within 64-63.
The Camels capitalized on a Continental turnover and hit a jumper to take the lead for the first time in the second half with 35 seconds left. Hamilton had a chance to take back the lead, but missed a 3-pointer with 18 seconds remaining. With 3.8 seconds left and the Camels up, 67-64, Simpson was fouled. He made the first free throw, but committed a lane violation on his second attempt. The Camels went 3-for-3 at the line in the final seconds to secure the win.
The Continentals shot 43.8 percent from the floor, and they were 17-for-21 (81 percent) at the free-throw line. Hamilton turned the ball over 10 times in the second half after giving it away just once in the first 20 minutes. Connecticut College shot extremely well -- 56 percent from the field, including 9 of 16 from long range.
Hamilton will host Hobart College on Saturday, Jan. 9, for the first Liberty League game of the season at 3 p.m.