Men's basketball edged by NYU in Thanksgiving Tournament final
---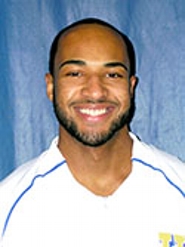 Carl Yaffe '13 scored a season-high 22 points and New York University went on to a 69-58 win over Hamilton College in the 2012 Hamilton Thanksgiving Tournament championship game at Hamilton's Margaret Bundy Scott Field House on Nov. 25.

Yaffe averaged 18 points and six rebounds in the two games and was named the tournament's most outstanding player. NYU's Devin Karch '13 was named to the all-tournament team along with Greg Newton '14 and Bradley Gifford '15 for the Continentals.

Karch contributed 15 points on 7 of 10 shooting. Max Wein '13 reached double figures with 10 points, including eight at the free-throw line, and pulled down nine rebounds. Kyle Stockmal '13 added seven points and game highs of seven assists and three steals.

Gifford paced Hamilton's offense off the bench with 13 points and grabbed seven rebounds. Newton and Matt Hart '16 scored 11 points apiece, Ajani Santos '16 recorded a season-high nine points and Ken Click '13 had eight.

"NYU was a very talented, veteran team," Hamilton head coach Adam Stockwell said. "Their experience came to the forefront as they were more consistent in their playmaking on both ends of the court. Moving forward, it shows us how precise we need to be in all facets of the game. Although the result was not what we wanted, we learned a great deal about who we are and where we are heading this season."

NYU (4-0 overall) scored the first six points and led the entire way. Gifford and Hart combined for Hamilton's first 14 points, and the Continentals trailed 19-14 with 11:19 left in the first half.

Layups by Click and Peter Kazickas '15 cut Hamilton's deficit to 19-18. But Yaffe responded with two baskets, including one of his three 3-pointers, to extend the Violets' lead back to 25-19.

Hamilton (2-2) was able to get to within three at 28-25 with 28 seconds remaining in the half after Matt Dean '14 pulled down an offensive rebound and went back up for the layup. However, Yaffe completed a 3- point play, Cory Stockmal '13 stole the ensuing inbounds pass, was fouled in the process and knocked down two free throws to give NYU a 33-25 halftime lead. The Continentals shot 33 percent from the floor in the first 20 minutes.

The Violets were up 40-31 three minutes into the second half when the Continentals went on an 11-4 run to pull within two. A 3-point play by Click started the run and Gifford's layup with 13:29 left got Hamilton within 44-42 and knocking on the door.

Kyle Stockmal answered with a three and added another basket to put the Violets back up by seven. After Santos converted a layup and free throw to cut the deficit back to 49-45, NYU went on a 12-2 run and never looked back.

Ryan Tana '14 hit a three and Karch made a layup and free throw to quickly extend the Violets' lead up to 55-47. Baskets by Cory Stockmal, Karch and Yaffe gave NYU their largest lead of the game at 61-47 with 5:32 to play. Yaffe's basket turned out to be the Violets' final field goal as they hit 8 of 12 free throws down the stretch.

NYU shot 53.5 percent (23-43) while Hamilton made 41.4 percent (24-58) of its shots. The Violets went 18-for-26 at the line and Hamilton attempted just nine free throws.

The Continentals return to the court on Thursday, Nov. 29, when they host Keystone College in non-conference action. NYU heads back home for a matchup with New Jersey City University on Monday, Dec. 3.