Men's basketball edged by Trinity in NESCAC action
---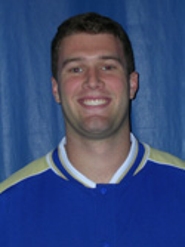 Four Trinity College starters scored in double figures and the Bantams went 6-for-6 at the free-throw line down the stretch en route to a 61-56 win against Hamilton College in a NESCAC game at Trinity's Oosting Gymnasium on Jan. 15.

Varun Ram led the Bantams with 14 points and four assists. Alex Conaway chipped in a season-high 13 points and Mick DiStasio had 12 -- all in the second half. Eric Dean posted a double-double with 10 points and 10 rebounds, and George Papadeas led all players with 11 boards off the bench. Trinity enjoyed a 43-33 rebounding advantage.

Pat Sullivan '12 recorded 14 points and three assists in a reserve role for Hamilton. Ken Click '13 tossed in 12 points and blocked two shots. Matt Dean '14 contributed 11 points, six rebounds and three assists, and Hans Schulte '13 grabbed six boards.

After back-to-back baskets by Hamilton's Dean cut the Bantams' lead to 55-54 with just under two minutes left to play, Ram drew an offensive foul on a drive by Schulte. Ram, DiStasio and Eric Dean combined to make six free throws in the final 34 seconds to preserve the Trinity win.

Eric Dean opened the scoring with a put-back in the game's first minute, and Trinity led for the vast majority of the first half. Three jumpers in a row by Click put the visitors ahead 25-24 just 1:43 before the break. Ram answered with a jumper, but Sullivan connected on a 3-pointer for a 28-26 lead at the half for the Continentals.

DiStasio gave Trinity back its lead with a trey out of intermission, Click made two free throws and Chris Applegate followed with a basket to put Trinity ahead 31-30. The Bantams jumped ahead by seven points at 43-36 on a long ball by Carter Trent with 13:49 left. But Dean responded with a traditional three-point play, and the visitors stayed within seven points throughout the second half.

Trinity (10-5 overall, 2-1 NESCAC) won despite shooting 32.7 percent from the field and committing 18 turnovers. Hamilton (11-6, 1-3) missed 17 of 19 shots from beyond the arc and shot 34 percent from the floor.

The Continentals host nationally ranked No. 1 Middlebury College for another NESCAC game on Friday, Jan. 20.