Men's basketball edges Middlebury for NESCAC win
---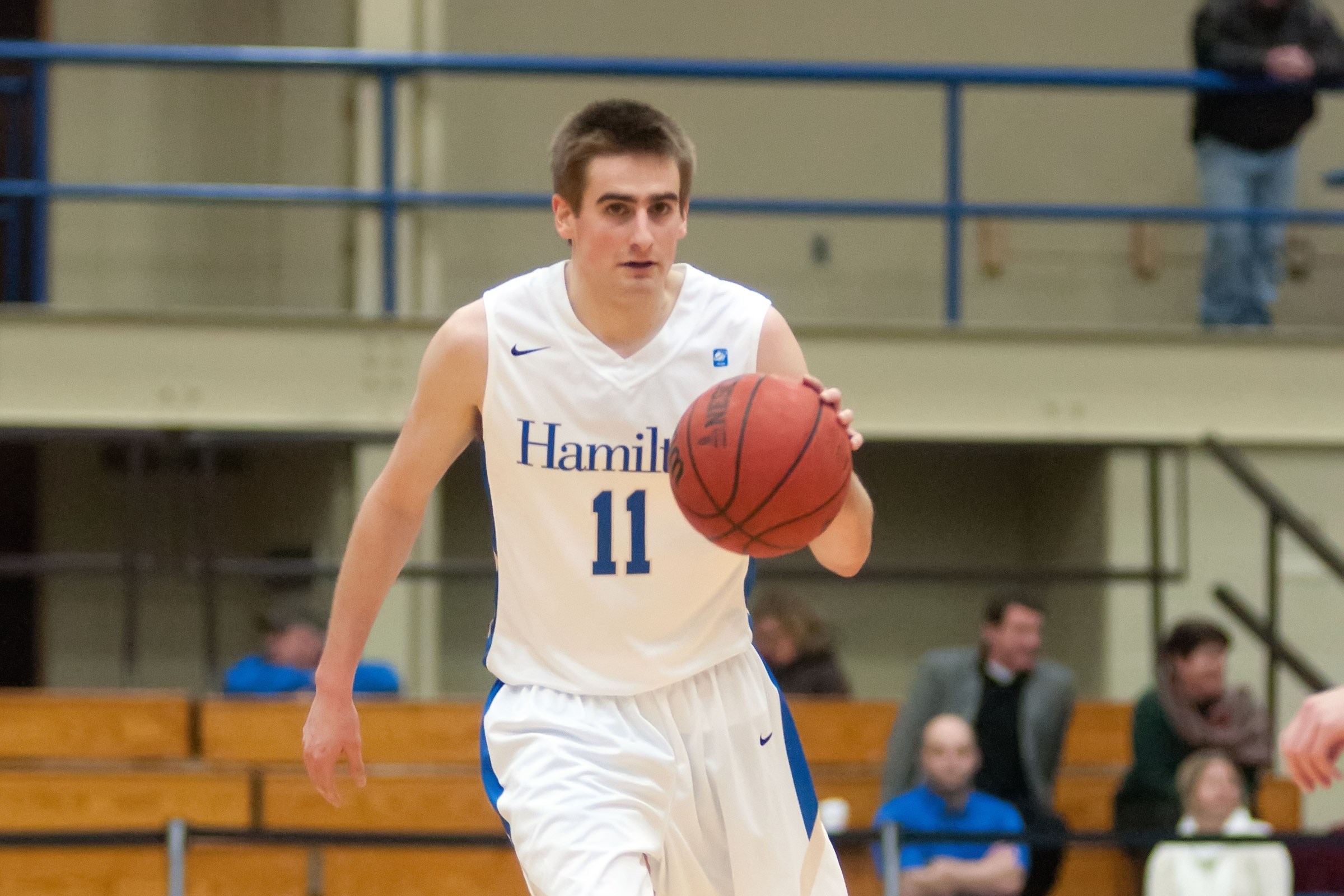 Hamilton College's Greg Newton '14 nailed an 18-foot jumper with six seconds left that broke a tie and lifted the Continentals to a 76-74 NESCAC win against the Middlebury College Panthers at Hamilton's Margaret Bundy Scott Field House on Feb. 2.

Box Score

The Continentals (11-9, 2-4 NESCAC) had lost their last seven games against Middlebury but they still lead the all-time series, 22-18. Hamilton's last win against the Panthers was during the 2005-06 season.

Matt Hart '16 tied a career high with 30 points for the Continentals. Hart, who had 21 of those points in the second half, leads the NESCAC with 21.5 per game.

Ajani Santos '16 dropped in a career-best 13 points for Hamilton. Bradley Gifford '15 just missed a double-double with nine points and a game-high 11 rebounds. Newton finished with nine points and tied a career high with eight assists. The Continentals held a 40-37 edge on the glass.

Joey Kizel '14 scored 19 of his 22 points in the second half and added five assists for Middlebury. Hunter Merryman '15 chipped in 12 points, Matt St. Amour '17 had 12 in 16 minutes off the bench, James Jensen '14 scored 11 and Jack Roberts '14 grabbed nine boards.

The Panthers (12-7, 3-3) recovered from a 14-point deficit early in the second half by shooting 59.3 percent from the floor during the final 20 minutes. Hamilton led 34-29 at the break and opened the second half with a 12-3 run for its largest lead of the afternoon at 46-32 with 16:01 to go. Middlebury responded with an 18-4 spurt and a layup by Dylan Sinnickson '15 forced the seventh tie at 50-50 with 9:40 remaining.

Neither team led by more than four points the rest of the way and there were five more ties. A layup by Kizel put the Panthers up 68-64 with 2:23 left. It was Middlebury's largest lead since midway through the first half.

Hart pulled the Continentals within one on Hamilton's first 3-pointer of the day with 1:58 to go. After Jensen made 1 of 2 free throws, Hart drained another trifecta and put Hamilton back in the lead at 70-69 with 1:20 remaining. Kizel nailed a shot from beyond the arc that put the Panthers back up by two with 1:09 left, and Hart answered with his third 3-pointer in 65 seconds for a 73-72 edge with 53 seconds to go.

After a Middlebury turnover, Newton was fouled and he made one free throw that gave Hamilton a two-point cushion with 41.3 seconds remaining. Kizel was fouled on the Panthers' next possession and he calmly made both free throws to tie the score at 74-74 with 29 seconds left. After Newton's basket, Middlebury had one last chance but a 3-point attempt for the win came up short and the buzzer sounded before anyone could grab the rebound.

In the first half, the Panthers held a 20-14 lead with 9:46 to go, but the Continentals roared back with a 14-2 run that gave Hamilton a six-point edge at 28-22 with 4:13 remaining. Santos' jumper with 2:04 left put the Continentals up 32-24 and represented the largest lead of the half for either team.

Hamilton hosts Tufts University for another conference game on Friday, Feb. 7. Middlebury travels to Keene State for a non-conference contest on Tuesday, Feb. 4.