Men's basketball edges St. Lawrence on buzzer-beater
---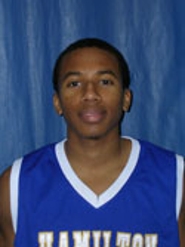 Ryan Wright '14 swished a 3-pointer at the buzzer to lift Hamilton College to a 59-56 win against St. Lawrence University in a Liberty League men's basketball game at Hamilton's Margaret Bundy Scott Field House on Jan. 29.

Watch the shot here on YouTube

The Continentals (11-5 overall, 5-2 Liberty) won their fourth straight game. Wright was 4 of 6 on 3-point shots and tied a season high with 12 points. Hamilton finished 9 of 21 (43 percent) from beyond the arc.

Pat Sullivan '12 led the Continentals with a game-high 18 points, and added eight rebounds and four assists. Ephraim McDowell '12 nailed four 3-pointers and ended up with 14 points. Greg Newton '14 came off the bench to hand out a game-high five assists. Hamilton was credited with 17 assists on 23 made field goals.

Ralph Temgoua '12 paced St. Lawrence with 14 points and eight rebounds. Temgoua made the Saints' lone 3-pointer as the team was 1 of 8 from long distance. Garrett Sharlow '12 chipped in 11 points, five boards and three assists. Jon Goldberg '13 scored nine points and Brandon Rivera '14 added eight off the bench.

The score was tied 30-30 at the break, but Hamilton led for most of the second half with the exception of three ties and a brief 37-36 advantage for St. Lawrence with 13:07 left. The Continentals' biggest lead of the half was eight points at 53-45 with 6:01 remaining.

Five straight points by Rivera cut the Saints' deficit to 53-50 with 3:27 left. McDowell made a three from the left corner to push Hamilton's lead back up to 56-50 with 1:40 remaining. Temgoua made a layup 30 seconds later, and Goldberg converted a 3-point play with 25 seconds left to make it a one-point game.

Sullivan missed a free throw with 13 seconds remaining, and Temgoua was fouled going to the basket with eight ticks left. Temgoua made the first free throw to tie the score at 56-56, but missed the second. Ken Click '13 (seven rebounds) grabbed the defensive board, but a long pass upcourt to Sullivan was too high, and sailed out-of-bounds with 2.7 seconds remaining.

Goldberg inbounded the ball under the Hamilton basket. He tried to pass it to Temgoua at midcourt, but the ball went off his hands and was scooped up by Wright. Wright dribbled once to the left wing and released the game-winner just before the final horn went off.

St. Lawrence (8-9, 4-3) scored the first seven points in the first half, but the Continentals responded with eight straight for an 8-7 lead. The lead changed hands three times until Hamilton went on a 10-2 run to take its biggest lead of the half at 21-14 with 6:34 remaining. The Saints responded with a 14-5 spurt for a 28-26 advantage with 1:38 left. The teams went into their locker rooms tied at 30-30.

St. Lawrence shot 54.5 percent (24-44) from the field. The Saints Achilles' heel was at the line where they were just 7-for-15, including 4-for-12 in the second half. St. Lawrence still leads the all-time series, 49-46.

The Continentals travel to Skidmore College for another league game on Friday, Feb. 4. The Saints host Vassar College in league play on Friday as well.