Men's basketball escapes with 77-76 win against Hobart
---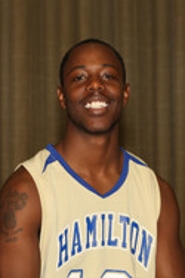 Hobart College missed the second of two free-throw attempts with one second left and Hamilton College edged the visiting Statesmen, 77-76, in a Liberty League game played at Scott Field House on Feb. 17.
Jay Simpson '10 led Hamilton (16-6 overall, 10-2 Liberty) with a career-high 19 points and went 5-for-7 from three-point range. Patrick Sullivan '12 finished with 16 points, six rebounds and two blocks. Simpson and Sullivan each shot 7-for-10 from the floor. Ephraim McDowell '12 contributed 15 points off the bench.
Hamilton extended a 43-38 halftime lead to a 14-point advantage at 59-45 with 13:08 left. Hobart (8-15, 5-7) clawed its way back after Hamilton picked up its seventh team foul of the second half with 12:37 remaining. The Statesmen went 11-for-11 from the free-throw line during a 19-4 run that gave them their first lead of the half at 64-63 with 6:41 left.
The Statesmen took a three-point lead at 68-65 with 4:10 to play, but McDowell and Simpson nailed back-to-back treys to rally the Continentals. Hobart followed with a three-pointer and a jumper to reclaim the lead at 73-71. Kyle Dumas '09 drained yet another long ball -- his only basket of the night -- to reclaim the lead for good for the hosts at 74-73 with 1:40 to go.
Harlee Wood '09 made two free throws and Hobart answered with a basket. McDowell hit the front end of a 1-and-1 with 9.5 seconds left for a 77-75 edge. He missed the second and Hobart secured the rebound for a chance to tie or win. Hamilton committed a foul with one second left in regulation after a loose ball scramble under Hobart's basket. Hobart sank the first free throw but missed the second with the student section screaming behind the basket. Jon Ciriello '11 knocked the ball out of bounds as time expired to clinch the win.
Hamilton made 9-of-15 three-pointers for 60 percent accuracy, and Hobart made 10-of-19 (53 percent). Wood finished with eight points, four rebounds and three assists. Ciriello contributed six points, two blocks and two steals. Tim Shaw '10 chased down five rebounds. The Continentals shot 59 percent from the field overall.
Hamilton travels to Skidmore College for another league contest on Friday, Feb. 20.