Men's basketball falls at Hobart
---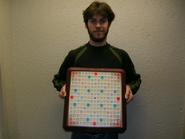 Hobart College led 42-31 at the half, and went on to defeat Hamilton College 81-67 in a Liberty League game played at Hobart's Bristol Gym on Feb. 9.
Pat Sullivan '12 posted game highs in points with 20 and in rebounds with 10. Ken Click '13 scored a season-high 16 points and grabbed six rebounds. Ephraim McDowell '12 and Dayne Harris '11 each scored 11 points. Jon Ciriello '11 tallied eight points and had three assists.
Hobart (13-8 overall, 6-4 Liberty) took the lead when they hit a 3-pointer 2 minutes, 19 seconds into the first half, and the Statesmen never trailed. Another 3-pointer put Hobart ahead by 12 at 21-9 with 11:24 left. The Statesmen made 14 3-pointers on the night.

The Continentals (8-12, 4-6) cut their deficit to 31-25 with 5:02 left in the half when Sullivan made two free throws. With 56 seconds remaining, the Statesmen hit another shot from behind the arc to go into the break with an 11-point lead.
Hamilton shot 42 percent from the field and 100 percent (8-for-8) at the free-throw line in the opening half. The Statesmen shot 44 percent from the floor in the first 20 minutes.
In the opening 3:32 of the second half, layups by Sullivan and Ciriello cut Hobart's lead to eight at 45-37. The Continentals didn't get any closer. The Statesmen went on a 10-3 run to stretch their lead to 20 with 3:31 remaining.
The Continentals shot 46 percent from the field and 88 percent (22-for-25) at the free-throw line for the game. Hamilton made just 1 of 10 shots from 3-point range. The Statesmen shot 46 percent from the floor and 45 percent from behind the arc. Hobart committed 11 turnovers and the Continentals turned the ball over 20 times.
Hamilton will host St. Lawrence University for another league game on Friday, Feb. 12.