Men's basketball falls at No. 4 Middlebury
---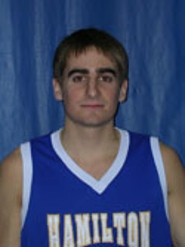 Ryan Sharry scored 18 points and grabbed seven rebounds to lead nationally ranked No. 4 Middlebury College to a 69-56 win against Hamilton College in a non-league game at Middlebury's Pepin Gym on Feb. 14.

The Panthers (21-1 overall) won their fifth straight game. Middlebury held a slim 26-25 lead at the break, but broke the game open with a 14-0 run to start the second half.

Sharry also made four steals and blocked three shots. Jake Wolfin chipped in 16 points and seven assists. Ryan Wholey added 13 points and seven boards. Joey Kizel came off the bench to score 10 points, and Andrew Locke had four blocks.

Greg Newton '14 came off the Hamilton bench to score a season-high 17 points. Newton had 16 in Saturday's win at Clarkson. Hans Schulte '13 dropped in 12 points in 16 minutes in a reserve role. Matt Dean '14 had eight points, and Max Shillalies '11 pulled down six rebounds and was credited with four assists.

Sharry and Wholey scored seven points apiece as the Panthers turned a one-point halftime lead into a comfortable 40-25 cushion with 15:01 left. The Continentals didn't get closer than nine points the rest of the night. Middlebury's advantage grew to as many as 19 points twice in the last 3:30 of the half.

The Panthers scored the first four points and led 13-8 with 11:18 left in the first half. The Continentals took their first lead with a 9-0 run that gave them a 17-13 advantage with 6:37 remaining. Newton had seven points during the run.

The rest of the half featured three more mini-runs. Middlebury scored seven in a row to go up 20-17, and Hamilton responded with an 8-0 spurt to take its largest lead at 25-20 with 1:01 left. The Panthers closed the half with consecutive 3-pointers by Sharry and Kizel for the 26-25 advantage.

The Continentals (14-8) shot 39.7 percent from the field, and Middlebury shot 49 percent from the floor.

Hamilton returns home to face Vassar College for a Liberty League game on Friday, Feb. 18.