Men's basketball falls to local rival Utica
---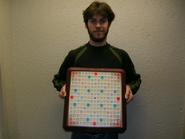 Hamilton College fell 60-48 to host Utica College at Clark Athletic Center on Dec. 2 in the 100th non-league meeting between the teams.

Hamilton (2-3 overall) still leads the all-time series, 73-27. The series dates back to 1948.

Pat Sullivan '12 led the Continentals with 17 points and added six rebounds to go with two steals. Dayne Harris '11 also reached double figures with 10 points and brought down a team-high seven rebounds. Jay Simpson '10 contributed seven points and dished out five assists.

The first half was a bit sloppy as Hamilton turned the ball over eight times, and the Pioneers recorded seven turnovers. Hamilton shot 35 percent from the floor in the first half compared to the Pioneers' 29 percent. The Continentals went into the break with a 24-22 lead.

Utica (4-1) started off the second half with a 5-0 run and took a 27-24 lead. The Pioneers held that lead the rest of the game. Hamilton was still within four points with 13:38 left after a basket by Ken Click '13 made it 36-32. However, Utica responded with an 8-0 run during the next 4 minutes, 10 seconds to move comfortably in front. The Pioneers extended their lead to as many as 16 points at 54-38 with 5:41 to go.

The key to Utica's strong second half was much better shooting. The Pioneers were 13-for-26 from the field, including 5-for-9 from three-point range, and made 7 of 9 free throws in the final 20 minutes. Meanwhile, the Continentals shot 35 percent from the floor for the entire game, and made just 4 of 17 three-point attempts.

The Continentals return to action on Tuesday, Dec. 8, when they host Elmira College for another non-league game at 8 p.m.