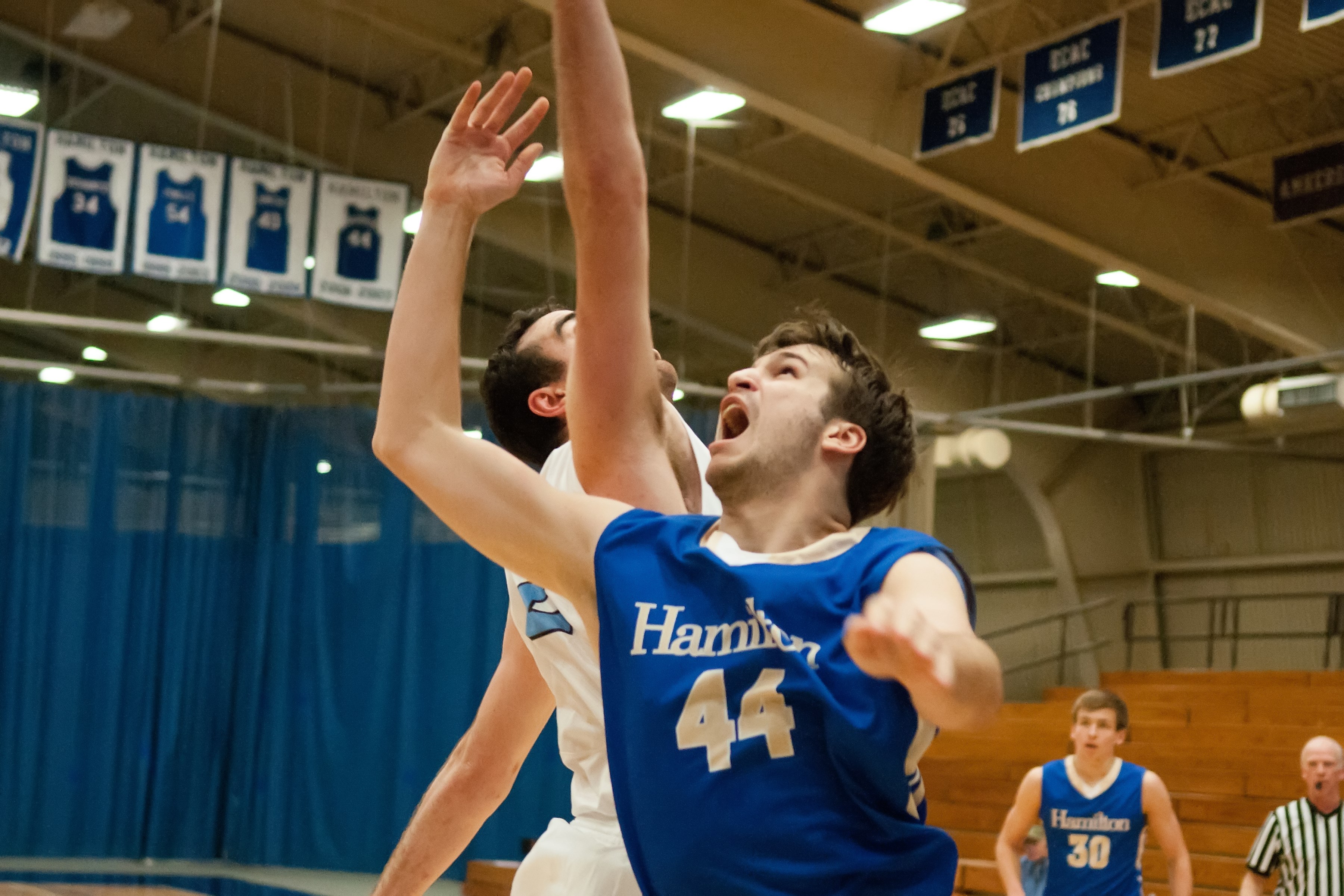 Tufts University shot 54 percent in the second half and the nationally ranked No. 18 Jumbos pulled away for an 86-60 NESCAC win against the Hamilton College Continentals at Hamilton's Margaret Bundy Scott Field House on Saturday afternoon.

Box Score

Tufts (12-3, 3-1 NESCAC) held a slim 42-39 lead with 15:17 left in the second half but went on a 13-2 run during the next 3:36 and led by double digits the rest of the way. The Jumbos, who are second in the conference in scoring with 85.8 points per game, made 11 shots from beyond the arc.

Hamilton's Andrew Groll '19 posted his third double-double this season and his second in as many days with 14 points and 10 rebounds. Groll is third in the NESCAC with 44 offensive boards and is eighth with 7.3 rebounds per game.

Peter Hoffmann '19 chipped in 12 points for the Continentals (7-8, 0-4) and Jack Dwyer '18 added eight points and four assists.

Tufts' Vincent Pace led all players with 20 points on the strength of four 3-pointers and added eight rebounds and six assists. Pace is second in the NESCAC with 19.5 points per game.

Tarik Smith dropped in 17 points, Ethan Feldman scored 13 in 18 minutes off the bench and Stephen Haladyna finished with 11 for the Jumbos. Tom Palleschi contributed eight points, 10 boards and two blocked shots despite playing just 19 minutes due to foul trouble in the first half. Palleschi leads the NESCAC with 52 blocks and is second with 8.9 rebounds per game.

Tufts led 33-28 at the break and quickly jumped out to a 10-point advantage at 42-32 early in the second half. Hamilton clawed back to within 42-39 thanks to a 3-pointer and a layup by Hoffmann, and another basket in the paint by Dwyer.

The Jumbos responded with a 13-2 run fueled by Smith and Feldman. Palleschi started the spurt with a free throw and that was followed by a Smith layup. After a basket in the paint by the Continentals' Ajani Santos '16 cut Hamilton's deficit to 45-41, Smith restored Tufts' six-point lead with a pair of free throws. Feldman scored the next eight points on two 3-pointers sandwiched around a layup, and the Jumbos led 55-41 with 11:41 remaining.

Tufts' cushion fluctuated between 11 points and the final margin of 26 the rest of the afternoon. Smith scored 13 points in the second half alone.

The first half featured four ties and three lead changes. Hamilton's last lead was at 16-14 midway through the half on a Hoffmann 3-pointer. The Jumbos eventually moved out to a 10-point advantage at 30-20 with 3:40 to go but the Continentals finished the half on an 8-3 run. Hoffmann made a free throw, Groll added a layup and Matt Moros '18 drained a 3-pointer and two free throws. Moros entered the day with three points all season. Pace had 13 points for Tufts in the first 20 minutes.

The Jumbos' only loss in the past 10 games was in overtime at Middlebury College on Friday night. Tufts ended up with 38 points in the paint and 24 off turnovers.

Hamilton hosts Ithaca College for a non-conference game on Tuesday, Jan. 19, at 7 p.m. The Jumbos continue their road trip with a NESCAC game at Wesleyan University on Friday, Jan. 22, at 7 p.m.