Men's basketball falls to No. 4 Williams
---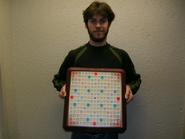 Nationally ranked No. 4 Williams College defeated Hamilton College, 96-61, in a non-league game at Hamilton's Margaret Bundy Scott Field House on Jan. 26.

Pat Sullivan '12 paced Hamilton with 18 points. Russ Rosenband '12 dropped in 14 points off the bench and Dayne Harris '11 contributed nine. Jay Simpson '10 handed out four assists.

Williams (18-1 overall) won its ninth straight game. The Ephs shot 61 percent (38-62) from the field and made all nine of their free throws. Williams held a commanding 40-20 advantage in rebounds.

Williams scored the first eight points and never trailed. The Ephs opened the game with two 3-pointers and a layup in the run. The Continentals (7-8) came back to tie the score with 15:24 left in the half when Rosenband hit a jumper to make it 12-12. Williams scored the next four points to claim the lead for good.
The Continentals cut the deficit to one on three different occasions. A 3-pointer by Rosenband with 13:06 remaining made the score 16-15. The Ephs responded with a layup, but Sullivan connected on two free throws to cut the margin to one again. With 6:03 left in the half, Ephraim McDowell '12 put the Continentals within one for the final time when he hit a 3-pointer to make the score 28-27.

Hamilton was still within three points with 4:06 remaining when Harris hit a jumper to make the score 35-32. But Williams ended the first half with a 12-2 spurt, and went into the locker room with a 47-34 lead. The Ephs shot 67 percent (18-27) from the floor in the first half. The Continentals stayed close by making 6 of 12 shots from beyond the arc in the opening 20 minutes.

Williams' defense clamped down in the second half. The Ephs went on an 11-2 run fueled by three 3-pointers out of the break to take their largest lead yet at 58-36. Hamilton's first field goal was a Sullivan jumper with 10:45 left. At that point, Williams' lead was 26 points at 70-44. The Continentals never threatened again.

The Ephs made 8 of 18 shots from long range in the second half. Meanwhile, Hamilton shot just 29 percent (8-28), and missed all eight of its 3-point attempts.

The Continentals travel to Clarkson University for a Liberty League game on Friday, Jan. 29.