Men's basketball falls to Union
---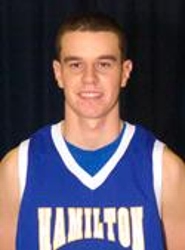 Ephraim McDowell '12 scored a career-high 28 points, but Hamilton College fell, 80-71, to Union College in a Liberty League game at Union's Viniar Athletic Center on Jan. 15.

McDowell was 8-for-14 from 3-point range and pulled down six rebounds. Hamilton (5-6 overall, 1-1 Liberty) went 15-for-40 from long range as a team. Jay Simpson '10 handed out a career-best 12 assists and Ken Click '13 came off the bench to haul in a team-high seven rebounds. Pat Sullivan '12 and Russ Rosenband '12 added nine points apiece.
Hamilton built a four-point lead at 10-6 in the opening 4 minutes, 11 seconds. The run included 3-pointers by McDowell and Sullivan. Union (5-7, 1-1) hit a 3-pointer of its own with 14:48 left in the half to take a 12-10 lead. The Dutchmen did not let go of the lead for the rest of the game, and were up 36-26 at the break.
Union stretched its lead to as many as 21 points in the second half. The Continentals were able to cut their deficit to seven with 3:14 remaining. A 3-pointer from Rosenband and a layup by Max Shillalies '11 made the score 71-64. Hamilton cut the Dutchmen lead to seven two more times late, but Union connected on three free throws in the final 1:09 to preserve the victory.
The Continentals shot 40 percent from the floor. The Dutchmen shot 63.6 percent from the field, including 15-for-21 in the second half. Union made 19 free throws while Hamilton was just 6 of 10 at the line.
Hamilton travels to Skidmore College to play another league game on Saturday, Jan. 16.