Men's basketball falls to Wells College
---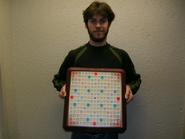 Hamilton College fell 70-60 to host Wells College in a non-league game played in Aurora, N.Y., on Nov. 28.
Pat Sullivan '12 led the Continentals (2-1 overall) with a career-high 23 points and added five rebounds. Ken Click '13, Jon Ciriello '11 and Joe Manns '10 contributed seven points each. Ciriello brought down a team-high seven rebounds, and Manns was credited with three assists and two steals. Jay Simpson '10 dished out five assists.
Hamilton jumped out to a six-point lead -- its largest of the game -- 2 minutes, 6 seconds into the first half. Ciriello connected on a lay-up and a three-pointer, and Sullivan added a conventional three-point play for an 8-2 advantage. Wells (3-2) took the lead twice in the first half, but the Continentals went into the break ahead 29-26.
Wells took the lead at 36-34 with 16:33 left in the second half, and held it the rest of the game. Five more points followed for Wells and the hosts led 41-34. The Continentals answered with the next six straight points, including four from Tim Shaw '10.

Hamilton was able to cut its deficit to 54-52 with 4:11 remaining after a jumper by Sullivan. Wells kept applying the pressure with a jumper and two foul shots to put themselves back up by six at 58-52 with 2:27 remaining. Manns hit a three-pointer to cut Wells' lead to three with 2:14 left, but Wells clinched the victory with an 8-0 run for a 66-55 advantage with 51 seconds remaining.
Hamilton shot 43.1 percent from the field and 28.6 percent from three-point range. The Continentals attempted just seven free throws -- all by Sullivan.
The Continentals return to action on Monday, Nov. 30, when they travel to SUNY Institute of Technology for another non-league game at 7 p.m.