Men's basketball falls to Widener in OT
---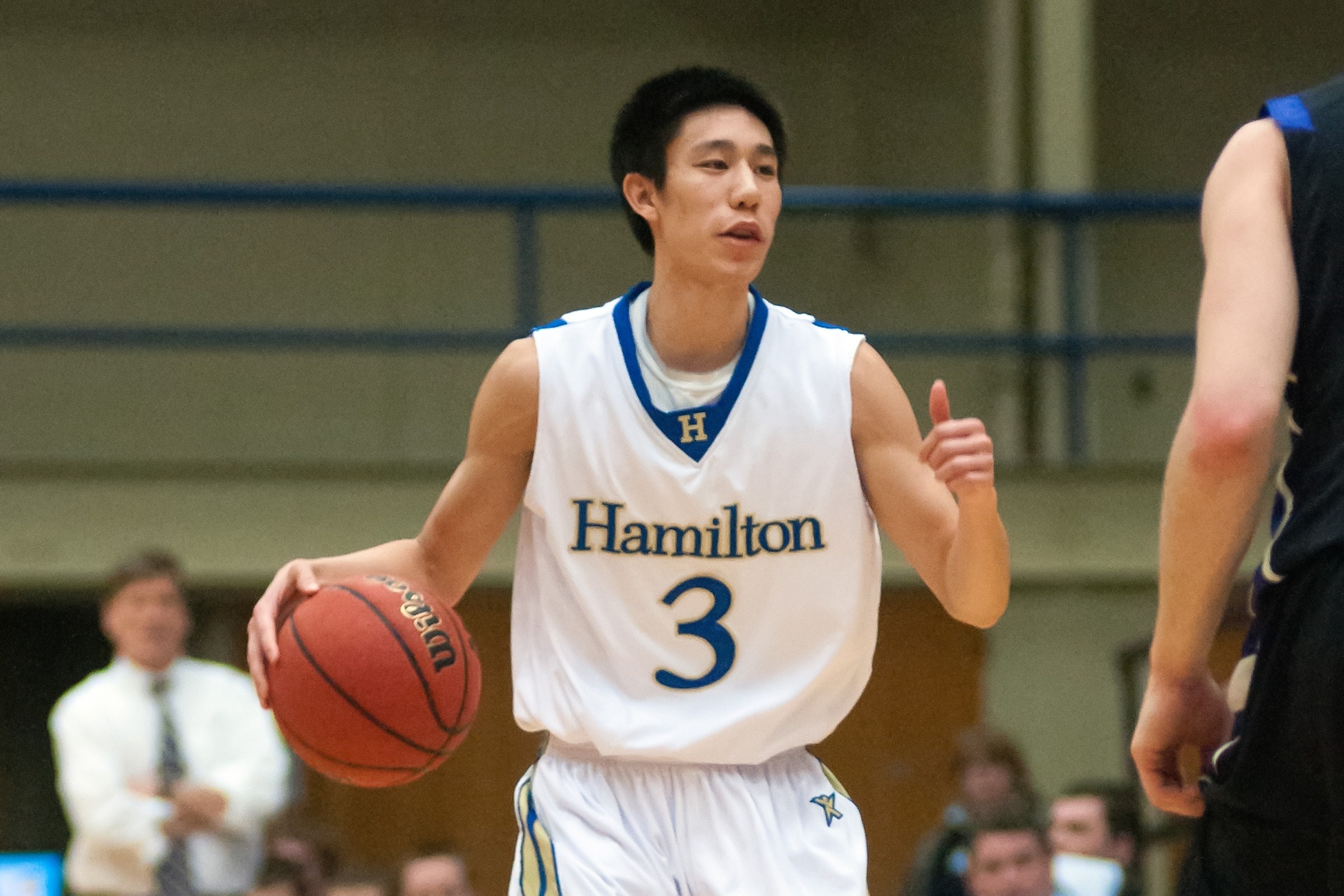 Widener University's Greg Lawson '15 and Rob McPherson '14 posted double-doubles and the Pride remained undefeated with an 89-83 overtime win against the Hamilton College Continentals in the 2013 Hamilton Invitational Tournament championship game at Margaret Bundy Scott Field House on Nov. 23.

Box Score

Lawson was selected the tournament's most outstanding player after he scored 22 points and grabbed 14 rebounds in the title game. McPherson was outstanding as well with 24 points and 13 boards -- all on the defensive glass. Widener (5-0 overall) enjoyed a 49-32 advantage in rebounds, including 17 offensive boards.

Laron Byrd '16 chipped in 13 points, Dillon Fields '15 had 12 and David Nicholson '16 added 11 off the bench for the Pride. Nicholson made all three of his 3-point attempts. Mark Pryzbylkowski '15 handed out five assists.

Joseph Lin '15 dropped in a career-high 19 points for the Continentals (3-2). Matt Hart '16 tallied 19 points as well and Greg Newton '15, who didn't play Friday night due to injury, scored 15 off the bench. Lin and Hart made the all-tournament team. Bradley Gifford '15 had his streak of double-doubles come to an end at three games after he fouled out with eight points and seven boards.

In overtime, Widener made just one basket but went 12-for-16 at the free throw line. Gifford put Hamilton up 76-75 after he made 1 of 2 at the line 40 seconds into the extra period. The Pride scored the next five points and led the rest of the way.

Fields made two free throws for a 77-76 lead with 4:06 left, McPherson made one with 3:49 remaining, Byrd made another with 3:13 to go and McPherson added one more with 1:50 left. A deep jumper by Peter Kazickas '15 cut the Continentals' deficit in half at 80-78 with 1:14 remaining but Widener clinched the victory with another 5-0 spurt. Byrd hit a jumper, Pryzbylkowski made two free throws for his only points of the day and Lawson made the first of two free throws for an 85-78 advantage with 29 seconds to go.

Neither team led by more than seven points in a first half that ended in a 38-38 tie. The Pride looked as if they would pull away in the second half when Fields made a layup for a 63-53 lead with 9:39 left. Hamilton responded with a 16-4 run that ended with a Matt Dean '14 jumper that put the Continentals up 69-67 with 3:01 remaining.

After a jumper by Fields tied the score again, Dean gave Hamilton a 73-69 lead on a tip-in basket and a layup with 1:21 to go. McPherson and Lin traded layups, Byrd made a basket from in close and after a Hamilton turnover, McPherson tied the score at 75-75 with another lay-in with 7 seconds left. The Continentals missed a 3-point shot for the win in the final seconds. Hamilton shot 53.6 percent (15-28) and Widener went 16 of 30 (53.3 percent) from the floor in a well-played second half.

The Continentals host Manhattanville College for a non-conference game on Saturday, Nov. 30, at 3 p.m.