Men's basketball gets by Tufts for 3rd straight win
---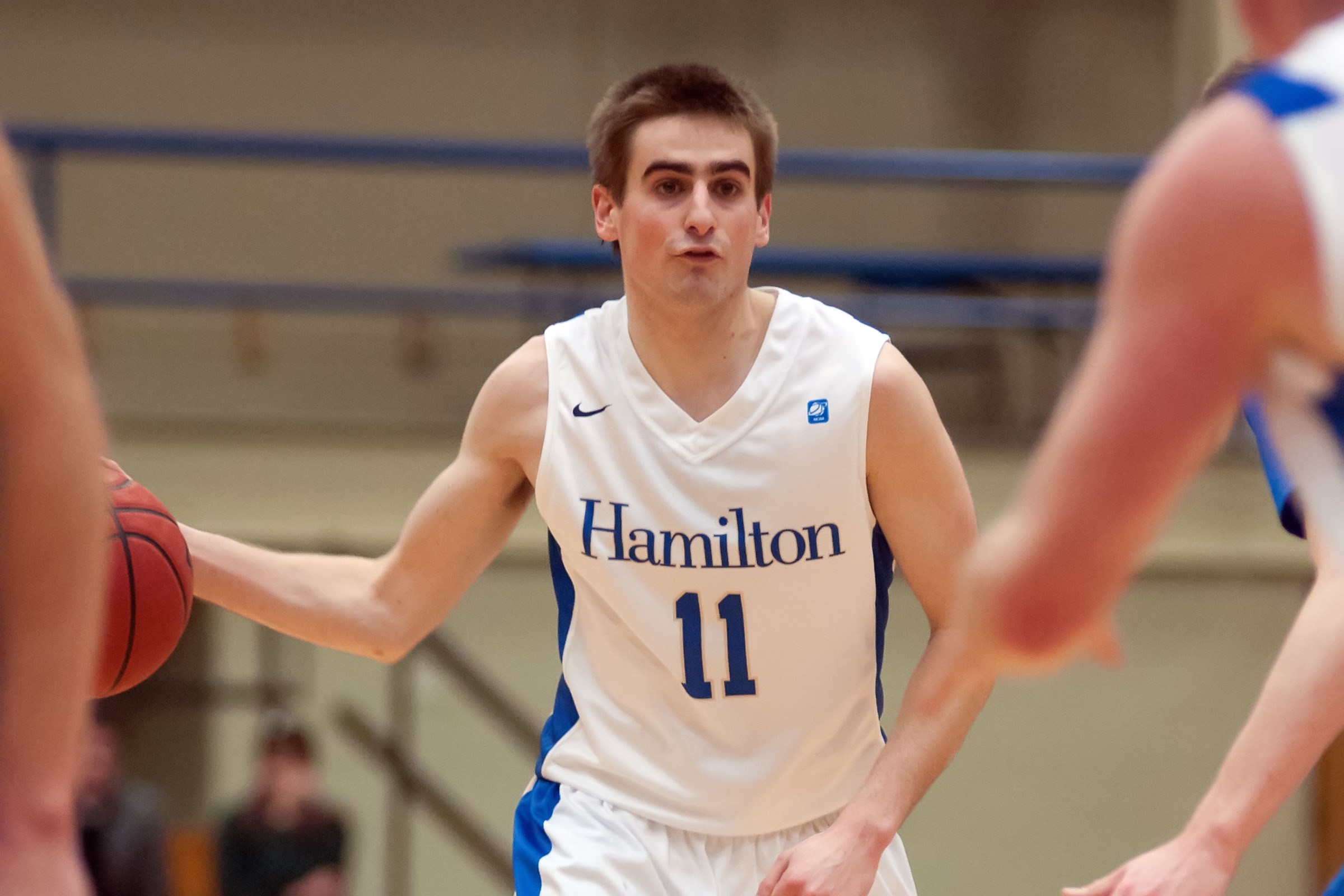 Hamilton College's Greg Newton '14 made a driving layup with 5.7 seconds left and lifted the Continentals to a 71-69 NESCAC win against the Tufts University Jumbos at Hamilton's Margaret Bundy Scott Field House on Feb. 7.

Box Score

Newton finished with 16 points and five assists as the Continentals won their third straight game. Ajani Santos '16 dropped in a career-high 14 points, Matt Hart '16 had 11, Bradley Gifford '15 added 11 off the bench and Jack Donnelly '16 scored all nine of his points in the first half. Peter Kazickas '15 grabbed a game-high seven rebounds. Hamilton shot 50.9 percent (29-57) from the floor.

Kwame Firempong '14 paced Tufts with a game-high 18 points, including 15 in the first half, and six boards. Ben Ferris '15 and Tarik Smith '17 chipped in 13 points apiece and Oliver Cohen '14 handed out five assists. The Jumbos shot just 37.3 percent (22-59) from the field but made more free throws (16) than the Continentals attempted (12).

After Newton's basket, Tufts still had a chance to tie the score or win. Hamilton knocked the ball out of bounds near midcourt with 1.3 seconds to go and the Jumbos couldn't get a shot off before the buzzer.

The Continentals (12-9, 3-4 NESCAC) jumped out to an early 12-5 lead thanks in part to a pair of 3-pointers by Hart. Hamilton's advantage grew to 12 points at 30-18 on a Gifford jumper with 6:10 remaining.

Tufts (11-10, 2-5) roared back with a 13-0 run that was keyed by Firempong's seven points, including a layup that gave the Jumbos a 31-30 edge with 2:01 left. Kazickas and Gifford made back-to-back layups that put the Continentals back in front 34-31, and Firempong's two free throws pulled Tufts within a point with 42 seconds to go. Hamilton took a 34-33 lead into the break.

There were six lead changes in the second half and neither team led by more than four points during the first 12 minutes. Firempong pulled the Jumbos within a point at 53-52 with 8:53 remaining but the Continentals scored the next eight points on two baskets by Santos and two free throws by both Newton and Gifford, and Hamilton had a 61-52 advantage with 5:53 left.

Tufts got back into the game with the long ball as the Jumbos' last four baskets were all from beyond the arc. A 3-pointer by Ferris pulled Tufts within 65-63 with two minutes to go, and another trifecta by Ferris put the Jumbos back in the lead at 66-65 with 1:16 remaining.

A layup by Santos gave the Continentals a one-point lead with just under a minute to play and a layup by Hart made it 69-66 with 32 seconds left. Smith knocked down a long 3-pointer that tied the score for the last time at 69-69. Hamilton called a timeout with 14 seconds to go, the ball was inbounded to Newton and he took care of the rest. Newton scored 14 of his 16 points in the second half.

Tufts still leads the all-time series with the Continentals, 11-9, but Hamilton has won three of the last four games.

The Continentals host Bates College for another NESCAC game on Saturday, Feb. 8. The Jumbos travel to Williams College for more conference action on Saturday.