Men's basketball goes cold, falls to Union in tourney championship
---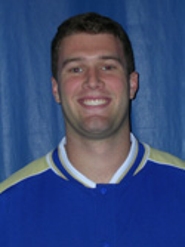 Terell Winney came off the bench to score a season-high 21 points and Union College defeated Hamilton College 69-54 in the 27th Annual Sig Makofski Invitational Tournament championship game at Union's Viniar Athletic Center on Jan. 3.

The Dutchmen (7-1 overall) have won seven in a row after opening their season with a one-point loss against unbeaten Hartwick College. Union held a slim 25-22 lead at the half, but pulled away in the second half as they shot 60.7 percent from the field during the final 20 minutes.

Winney was named to the all-tournament team and Keven Donohue, who had a double-double with 13 points and 13 rebounds, was the tournament's most valuable player. Donohue scored all his points in the second half. Rusmir Dzanko dropped in 11 points and Keith Callies added nine.

Pat Sullivan '12 paced Hamilton with 11 points and was the only Continental that scored in double figures. Eleven Hamilton players found their way into the scoring column. Greg Newton '14 chipped in nine points and Eric Benvenuti '13 grabbed a team-high seven boards, including four on the offensive end. Sullivan and Newton made the all-tournament team.

The lead changed hands seven times early in the first half. The Dutchmen held a 10-9 advantage when the Continentals ran off six straight points for their largest lead of the night. Joseph Lin '15 and Bradley Gifford '15 made layups, and Sullivan made it 15-10 with a jumper with 6:54 left.

Union responded with a 9-0 spurt to take the lead for good. Winney hit a 3-pointer, Matt Petrone made back-to-back layups and Winney drained a jumper for a 19-15 advantage with 2:50 remaining. Lin made a layup just before the end of the half to pull Hamilton within three points. Both teams were 10-for-31 (32.3 percent) from the field.

The Dutchmen took control at the start of the second half with an 11-2 run. Evan Croll started the spurt with a layup, followed by a 3-pointer by Donohue. Sullivan stopped the bleeding with a layup for the Continentals, but Joe Mason countered with a jumper, and Dzanko made two layups for a 36-24 edge with 16:32 left. Hamilton didn't get closer than six points the rest of the way.

The Continentals (10-3) shot 34.4 percent from the floor, and were 3-for-18 from 3-point range for the entire game. Hamilton owned a slim 42-39 rebounding edge.

The Continentals return home, where they are 7-0, to open NESCAC play on Friday, Jan. 6, against Bowdoin College.