Men's basketball handed first loss by No. 24 Rochester
---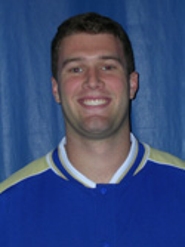 Nationally ranked No. 24 University of Rochester scored the first 15 points and cruised to an 83-58 win against Hamilton College in a non-conference game at Rochester's Palestra on Dec. 7.

Hamilton suffered its first loss of 2011-12 after starting the season 8-0 for the first time since 2005-06. The Continentals aim to return to the win column back home against Vassar College for another non-conference game on Saturday, Dec. 10.

Chris Dende led the Yellowjackets with 15 points, and Marcus Williams chipped in 13 off the bench. Rob Reid added eight points and a game-high seven rebounds. John DiBartolomeo posted eight points, five assists and three steals.

Hamilton's Pat Sullivan '12 paced the Continentals with a game-high 17 points and added four rebounds. Sullivan made all eight of his free-throw attempts. Ken Click '13 dropped in a season-high 12 points. Joseph Lin '15 recorded five assists, four boards and two steals off the bench.

Rochester (7-2 overall) led 15-0 with 15:27 left in the first half. Dende scored five points during the spurt. The Yellowjackets led by double digits the rest of the night. Rochester enjoyed a 45-19 advantage at the break. The Yellowjackets shot 60 percent from the field in the first 20 minutes, while Hamilton shot just 13.6 percent (3-22).

Rochester's lead fluctuated between 24 and 35 points during the second half. The Continentals improved dramatically on offense after the break as they shot 50 percent, and outscored the Yellowjackets 39-38.

Hamilton shot 35.2 percent for the game. The Continentals had been limiting opponents to a field goal percentage of .384 through the first eight games. Rochester scorched the nets at a 59.6 percent clip, including 7 of 16 from 3-point range. The Yellowjackets held a 31-25 advantage in rebounds.