Men's basketball holds off Elmira for win at home
---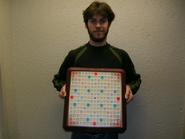 Pat Sullivan '12 led Hamilton College with 17 points and eight rebounds in the Continentals' 51-43 win over visiting Elmira College in a non-league game played at Margaret Bundy Scott Field House on Dec. 8.
Dayne Harris '11 also reached double figures in scoring with 14 points and brought down six rebounds as the Continentals (3-3 overall) broke a three-game losing skid. Jay Simpson '10 added eight points and passed out a game-high four assists. Joe Manns '10 recorded five points and grabbed six rebounds.
The Continentals opened the first half with a 15-2 run and led 20-5 with 11:46 left. Elmira (1-6) responded with three baskets from behind the arc in a span of 75 seconds, and the Soaring Eagles trailed 20-14 with 9:43 remaining. Hamilton scored just three points the rest of the half and held a slim 23-19 lead at the break.
Elmira took its first and only lead at 29-28 on two free throws with 13:58 left. Simpson put the Continentals back in front to stay at 31-29 on a three-pointer from about 26 feet a little more than two minutes later. Sullivan completed a 5-0 Hamilton run with two free throws with 9:12 remaining.

The Soaring Eagles' cut their deficit to three points at 39-36 on a three-pointer with 2:39 left. That was as close as Elmira could get the rest of the way. On the next possession, Harris made a three of his own to give the Continentals a 42-36 lead. Hamilton led by at least four points the remainder of the game.

Both teams shot just 31 percent from the field. The Continentals were 4-for-23 from long range and the Soaring Eagles were 6-for-21. The difference was the free-throw line, where Hamilton was 15-for-20, and Elmira made just 7 of 13.

This was the first meeting between the programs since the 1993 Eastern College Athletic Conference Upstate tournament. The Continentals lead the all-time series, 10-3.
The Continentals are off until Dec. 29, when they travel to Lehman College for a non-league game at 2 p.m.