Men's basketball keeps league title hopes alive
---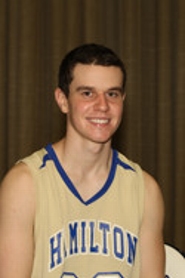 Ephraim McDowell '12 sank two free throws with 1.2 seconds left in regulation to erase a two-point Hamilton College deficit and the visiting Continentals went on to a 64-62 overtime win against Skidmore College in a Liberty League game at the Sports and Recreation Center on Feb. 20.
Hamilton (17-6 overall, 11-2 Liberty) kept its regular season league title hopes alive as first-place St. Lawrence University dropped a league contest to Vassar College to fall to 11-2 in the league. Each team has one league game remaining on Saturday, Feb. 21. Hamilton travels to Union College and St. Lawrence hosts third-place Rensselaer.
McDowell's free throws came after a technical foul was assessed to the Thoroughbreds as several players left the bench area after a Skidmore player drained a jumper for a 57-55 lead with 1.2 seconds left. McDowell finished with 10 points. Skidmore fell to 7-17 overall and 2-11 in the league.
Harlee Wood '09 scored Hamilton's first five points in overtime for a 62-59 lead with 2:35 to go. Skidmore drained a three to tie the score at 62-62 with 1:51 left. Lance Wilson '11 sank a 15-footer in transition for the winning points with 36 seconds left. Skidmore managed to get off a three-point attempt with two seconds left, but it was off the mark and Hamilton escaped with the win.
Hamilton trailed 20-4 with 12:12 to go in the first half and went into the break down 33-17. The Continentals' first lead came on a McDowell three-pointer that made the score 43-41 with 7:13 left in regulation. The teams traded the lead six times during the final seven minutes of regulation.
Wood finished with 15 points and 11 rebounds for his 10th career double-double. Jon Ciriello '11 recorded 11 points, eight rebounds and four blocks. Jay Simpson '10 and Wilson each chipped in nine points. Wilson added three assists.
Hamilton travels to Union College for its last league game of the regular season on Saturday.