Men's basketball loses at Keystone
---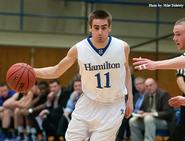 The Hamilton College Continentals suffered their first loss of the season on Saturday, 96-84 against Keystone College in a non-conference game at Keystone's Gambal Athletic Center on Saturday.

Box score

The Giants (2-0 overall) pulled away from a one-point halftime lead by outscoring the Continentals 50-39 after the break.

Bradley Gifford '15 – one of four Hamilton players that scored in double figures – recorded his first career double-double with a career-best 17 points and a team-leading 10 rebounds.

Keystone opened the second half with a 15-4 run to go up 61-49 with 15:29 left. A 13-5 Hamilton run over the next five minutes that featured six points by Greg Newton '14 closed the gap to four but the Continentals never got closer.

Matt Hart '16 was Hamilton's leading scorer for the second time in as many days with 19 points. Newton finished with 18 and Joseph Lin '15 (whose 3-point basket capped the surge that pulled Hamilton to within four points) added 10 off the bench.

Hart pulled down six rebounds for the Continentals, who were out-rebounded 40-31. Matt Dean '14 and Jack Donnelly '16 recorded career-best assist totals with six and four, respectively.

Hamilton (1-1) held the Giants to two baskets over the first five minutes and opened up a 10-5 lead. Keystone scored six of the next eight points for the first of eight lead changes in a span of 4:49. The Continentals took their last lead at 25-24 on a layup by Ajani Santos '16 with 8:43 left in the half. The Knights went ahead for good on their next possession.

Keystone's Duncan Lunsford paced all scorers with 28 points. Lunsford's 10 rebounds and six assists were team-leading totals. Dan Candemeres added 22 points, six rebounds and four assists, and Jesse Longmire scored 14 points.

The Continentals play a non-conference game at SUNY Oneonta on Tuesday, Nov. 19, at 8 p.m.