Men's basketball falls to Amherst in NESCAC championship quarterfinal
---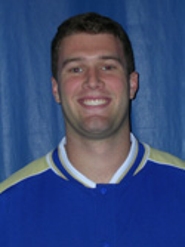 Aaron Toomey '14 scored 21 points and handed out seven assists to lead top seed and nationally ranked No. 2 Amherst College to an 86-66 win over Hamilton College in a 2012 NESCAC championship quarterfinal at Amherst's LeFrak Gymnasium on Feb. 18.

Taylor Barrise '12 scored 14 points, Allen Williamson '13 chipped in 12 and David Waller '12 added 11 for the Lord Jeffs. Barrise went 3-for-5 from beyond the arc and is shooting 46.9 percent from 3-point range this season. Willy Workman '13 grabbed a team-high seven rebounds.

Pat Sullivan '12 posted a double-double with 27 points and a career-high 13 rebounds to lead the No. 8 seed Continentals. Sullivan was a perfect 11-for-11 at the line. He finished his career with 1,439 points, which is good for ninth place on Hamilton's all-time scoring list.

Matt Dean '14 added 10 points, and Greg Newton '14 chipped in six points, five rebounds and four asssists. Newton played 18 minutes due to foul trouble, and eventually fouled out with 6:08 left in the second half.

Amherst (23-2 overall) drained three straight 3-pointers to open the game and hit six of its first seven shots as both teams were hot from the floor at the start. Hamilton made its first six shots and trailed by just one point at 13-12 with 15:45 remaining in the half.

Sullivan nailed a long jumper with 11:38 left to pull the Continentals within 21-18. But the Lord Jeffs responded with a 6-0 spurt for a 27-18 lead with 8:16 to go.

Newton's layup with 4:30 left cut the Continentals' deficit to three again at 30-27. The Lord Jeffs enjoyed their largest lead of the half after David Waller converted a layup to make it 37-27 with 1:36 remaining.

Dean knocked down a pair of free throws with 34 seconds left to pull Hamilton within 37-31. But Tim Prowitt pulled down an offensive rebound and hit a layup just before time expired to give the Lord Jeffs a 39-31 lead at the break.

Hamilton (15-10) shot 54.5 percent from the floor in the first half, while the Lord Jeffs shot 50 percent. Sullivan finished the half with 13 points, while Waller scored all 11 of his points in the first 20 minutes.

Barrise scored eight straight points for Amherst to start the second half, as the Lord Jeffs used an 8-1 run to take a 47-32 lead with 17:09 remaining. Barrise converted a traditional 3-point play, hit a jumper and capped the spurt with a 3-pointer.

A Dean layup with 15:32 left made it 47-36, but that was as close as the Continentals could get the rest of the way. Amherst led by as many as 22 points with 2:26 to play. Barrise made all four of his field goal attempts and scored 11 points in the second half.

The Lord Jeffs shot 57.1 from the floor in the second half, and 53.4 percent for the game. Amherst went 18-for-22 at the free-throw line as they won their 10th straight game, and lead the all-time series, 12-6.

The Jeffs -- now 10-0 at LeFrak Gymnasium -- will host the NESCAC semifinals and championship game on Saturday and Sunday, Feb. 25 and 26.

Hamilton was making its first NESCAC championship appearance in the Continentals' first season in the conference for basketball.