Men's basketball nipped in overtime
---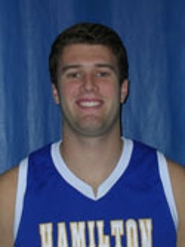 Hamilton College erased a seven-point halftime deficit, but lost 77-74 in overtime against West Coast Baptist College at Whittier College's Purple & Gold Poet Classic in Whittier, Calif., on Jan. 3.

Pat Sullivan '12 paced Hamilton with 17 points and nine rebounds before he fouled out late in the overtime period. The Continentals were whistled for 24 fouls, which led to 29 free-throw attempts for West Coast Baptist. Hamilton went just 6-for-14 at the line.

Ephraim McDowell '12 drained four 3-pointers and finished with 16 points. Ken Click '13 chipped in 10, and Tom McInerney '14 handed out five assists before he fouled out late in the second half. 6-foot-2 guard Matt Dean '14 had eight points and seven rebounds off the bench in his first game for the Continentals.

The Eagles (5-9 overall) buried Hamilton under an avalanche of 3-pointers in the first half, as they were 7 of 12 from beyond the arc. West Coast Baptist turned a 24-18 deficit into a 28-24 lead in two minutes thanks to three trifectas and a free throw. The Eagles led by nine points with 30 seconds left before Ryan Wright '14 beat the buzzer with a jumper to pull the Continentals within 38-31 at the half.

Hamilton (5-3) recovered in the second half as the Continentals shot 64 percent from the floor. After West Coast Baptist took its largest lead at 45-35, Hamilton roared back with an 11-1 run to tie the score. A layup by Sullivan put the Continentals in front 48-46 with 11:53 remaining.

Hamilton led for most of the rest of regulation, although there were six ties in the final 12 minutes. Dean put the Continentals ahead 68-66 with two free throws with 49 seconds left. The Eagles forged the 10th tie of the night on a layup just nine seconds later. Neither team took a shot in the final 40 seconds.

Sullivan scored all six of Hamilton's points in overtime, including a 3-pointer that gave the Continentals their only lead of the extra period at 72-71 with three minutes remaining. His layup pulled Hamilton within 75-74 with 13 seconds left. Two free throws put West Coast Baptist up by three with 10 seconds to go. The Continentals called a time out to set up a game-tying shot attempt, but turned the ball over as time expired.

Hamilton takes on the host school at 11 p.m. Eastern time (8 p.m. Pacific) at Whittier's Graham Athletic Center on Tuesday, Jan. 4.