Men's basketball nips Conn. College for NESCAC win
---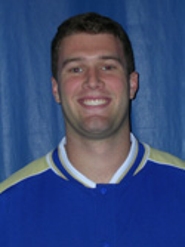 Pat Sullivan '12 scored a game-high 20 points to lead Hamilton College to a 63-61 win against Connecticut College in a NESCAC game at Conn. College's Luce Field House on Feb. 3.

Sullivan was 9 of 17 shooting and made both his free throws. He moved into 11th place on the team's all-time scoring list with 1,366 points. Sullivan missed Tuesday night's win against Elmira College with an ankle injury, but played 36 minutes tonight.

Hamilton's Matt Dean '14 -- a 6-foot, 3-inch guard -- blocked a shot from the low post that would have tied the score with two seconds left. Ephraim McDowell '12 went 4-for-7 from 3-point range and finished with a season-high 12 points.

Eric Benvenuti '13 provided nine points and six rebounds off the bench. Hans Schulte '13 chipped in seven points and six boards off the bench, and Greg Newton '14 contributed seven points and three assists.

Matt Vadas led the Camels off the bench with 15 points and game highs of 10 rebounds and six assists. Mason Lopez paced Conn. College with 16 points and Rob Harrigan ended up with 15 on the strength of four 3-pointers.

The Camels (6-15 overall, 0-8 NESCAC) scored the first eight points and led the entire first half. Conn. College's largest advantage was 11 points twice midway through the first half, and still led 38-30 with 1:24 left. The Continentals responded with a 10-0 run that spanned the first and second halves, and resulted in their first lead of the night.

Sullivan started the spurt with a jumper and Schulte's old-fashioned 3-point play made it 38-35 at the break. A Sullivan layup pulled Hamilton within one point, and a McDowell trifecta put the Continentals ahead 40-38.

There were eight lead changes and three ties as neither team led by more than five points the rest of the way. Harrigan gave the Camels a 60-56 lead after he was fouled while attempting a 3-point shot and made all three free throws with 2:18 remaining.

McDowell banked in a 3-pointer on the next possession to bring Hamilton within a point. Conn. College turned the ball over, and Benvenuti tipped a Dean miss out to Newton at the top of the key for another basket from beyond the arc and a 62-60 lead with 56 seconds left.

Dean fouled Brian Mahoney and Mahoney made one free throw with 42 seconds remaining. Sullivan missed a jumper with 20 seconds left and Vadas secured the rebound for the Camels.

Conn. College missed its next three shots, but ended up with the offensive rebound. Finally, Dean blocked a layup attempt by John Bullitt and Benvenuti grabbed the defensive rebound. Benvenuti was fouled, made the first free throw, missed the second and the Camels didn't get another shot off before time expired.

Conn. College shot 64 percent from the field in the first half and the Continentals shot 62 percent. Both teams were hot from beyond the arc for the evening as Hamilton made 8 of 14 (57.1 percent) and the Camels went 9-for-19 (47.4 percent).

The Continentals (13-8, 2-5) entered the game ranked in the top 35 in NCAA Division III with a free-throw percentage better than 73 percent. Hamilton went 9-for-10 at the charity stripe against Conn. College. The Camels have lost five in a row.

The Continentals travel to Wesleyan University for another NESCAC game on Sunday, Feb. 5.