Men's basketball opens season with win over SUNY Canton
---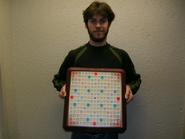 Hamilton College earned an 89-56 win over visiting SUNY Canton in the opening round of the 2009 Hamilton Tip-Off Tournament at Margaret Bundy Scott Field House on Nov. 20.
The Continentals (1-0 overall) will play Ursinus College in the championship game on Saturday, Nov. 21. Ursinus defeated Keystone College, 85-83, in the other first round game.
Hamilton was led Pat Sullivan '12 and his game-high 18 points. Eric Benvenuti '13 chipped in 15 points in his first collegiate action. Dayne Harris '11 and Ken Click '13 added 10 points apiece. Click also grabbed a game-high seven rebounds. Hans Schulte '13 came off the bench to hand out six assists and make three steals.
SUNY Canton (1-4) jumped out to a 6-0 lead, but the Continentals took an 11-10 lead with 12:15 left in the first half and never looked back. Hamilton used a 16-0 run, which featured seven points from Jon Ciriello '11, late in the first half to pull away.
The Continentals continued to control the action in the second half, and stretched their lead to as many as 34 points late in the game. Hamilton shot 45.1 percent from the field and 89.5 percent at the free throw line.
The championship game starts at approximately 4 p.m., and Keystone meets Canton in the consolation game at 2 p.m.