Men's basketball outlasted by No. 1 Middlebury
---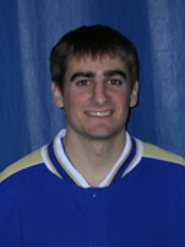 Ryan Sharry '12 scored a game-high 22 points to lead nationally ranked No. 1 Middlebury College to a 76-64 win over Hamilton College in a NESCAC game at Hamilton's Margaret Bundy Scott Field House on Jan. 20.

Sharry was 10 of 15 from the floor, and also pulled down a team-high eight rebounds. Joey Kizel '14 chipped in 16 points and six assists, and Jake Wolfin '13 added 10 points and four assists.

Greg Newton '14 led the Continentals with 21 points to go along with nine rebounds and five assists. Pat Sullivan '12 posted a double-double with 17 points and 10 boards. Eric Benvenuti '13 added eight points, and Ken Click '13 blocked four shots.

A layup by Newton gave Hamilton (11-7 overall, 1-4 NESCAC) its largest lead of the game at 10-6 with 15:39 remaining in the first half. But Sharry responded by making three consecutive layups, and Kizel converted another to cap a quick 8-0 run that gave Middlebury a 14-10 lead with 13:11 left.

A pair of free throws by Newton gave Hamilton a 21-20 lead with 8:48 remaining. But a layup by Dylan Sinnickson '15 put Middlebury (16-0, 5-0) back in the lead with 8:27 left in the half. The Panthers led by as many as eight points later in the half. Sullivan hit a jumper with 31 seconds remaining to pull the Continentals within 38-33 at the break.

A 3-pointer by Kizel with 12:05 left put Middlebury up 53-44 for its largest lead of the game at that point. But Benvenuti sank a 3-pointer, Click hit a jumper followed by a pair of free throws, and Benvenuti drained a jumper to cap a 9-0 run and tie the score at 53.

With the score tied at 55 and 6:44 on the clock, the Panthers used a 9-2 mini-run to grab a 64-57 advantage with 3:21 to play. A layup by Sharry and a pair of free throws by Sinnickson made it 59-55. Newton cut Hamilton's deficit in half with a jumper, but Middlebury responded with a 3-pointer by Wolfin and a layup by Jack Roberts '14 for the seven-point lead.

A pair of free throws by Sullivan cut Middlebury's lead to four points at 67-63 with 1:38 left. But that was as close as Hamilton could get, as the Panthers shot 8-for-9 at the line over the final 1:08 to seal the victory. The Continentals shot 33.3 percent from the floor, including 1-for-9 from 3-point range, in the second half.

Middlebury held a 33-29 rebound advantage and shot 52.5 percent from the floor. The Continentals lead the all-time series 14-13.

Hamilton travels to No. 15 Williams College for a NESCAC game on Sunday, Jan. 22, at 4 p.m.