Men's basketball outlasts Tufts for NESCAC win
---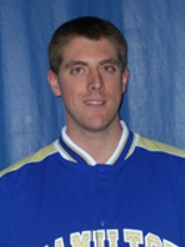 Pat Sullivan '12 scored a game-high 23 points to lead Hamilton College to a 67-64 win over Tufts University in a NESCAC game at Hamilton's Margaret Bundy Scott Field House on Feb. 10.

Sullivan also grabbed a team-high seven rebounds and blocked two shots. He moved into 10th place on the team's all-time scoring list with 1,399 points.

Ken Click '13 chipped in 12 points and five rebounds, and Greg Newton '14 and Matt Dean '14 added eight points apeice. Newton handed out a team-high six assists.

Scott Anderson '13 posted a double-double for the Jumbos with 17 points and a game-high 10 rebounds. C.J. Moss '15 chipped in 11 points, and Kwame Firempong '14 and Ben Ferris '15 each dished out six assists. Ferris also grabbed eight rebounds.

Hamilton (14-9 overall, 3-6 NESCAC) scored the first five points and took a 19-16 lead on a jumper by Hans Schulte '13 with 10:27 to play in the first half. After Ferris tipped in a misssed shot on the next possession, the Continentals went on a 10-0 run to take a 29-18 lead with 6:11 remaining in the half. Dean converted back-to-back layups to start the spurt, Click nailed a jumper, and Sullivan hit a jumper and a layup for the 11-point cushion.

But the Continentals managed only two more points the rest of the half, as Tufts (16-7, 6-4) battled back with a 14-2 run that spanned halftime to take the lead. James Long '12 sparked the run with a traditional 3-point play with 3:22 left in the first half, and Anderson capped it with a jumper with 19:26 remaining in the second half for a 32-31 Jumbos' lead. Tufts shot 34.3 percent from the floor in the first half.

A 3-pointer by Oliver Cohen '14 with 12:09 left gave the Jumbos their largest lead of the second half at 50-43. Hamilton responded with an 18-5 run during the next 7 minutes, 50 seconds, to build a 61-55 advantage with 4:19 to play.

Moss drained a 3-pointer following an offensive rebound on the next possession to pull Tufts within 61-58 with 3:39 left. After Newton hit a jumper to stretch Hamilton's lead to 63-58, the Continentals turned the ball over and Moss sank another 3-pointer to make it 63-61 with 2:58 remaining.

Another Jumbos' offensive rebound led to a 3-pointer by Anderson that put Tufts ahead 64-63 with 1:20 on the clock. But on the next possession, Click swished a baseline jumper from the left side to put Hamilton in front for good 65-64. Click then blocked a shot and collected the rebound on the ensuing Jumbos' possession.

A layup by Schulte with 14 seconds remaining gave the Continentals a 67-64 lead. After a Tufts timeout, Moss's 3-point attempt with four seconds left bounced off the rim, and the ball went out of bounds as time expired. The Continentals shot 59.3 percent from the floor in the second half, and 54.4 percent for the game. It was Hamilton's second-highest shooting percentage this season.

Tufts held a 38-26 rebound advantage as the Jumbos grabbed 18 offensive boards. The last meeting between the two teams was a 95-91 overtime win for Hamilton on Dec. 9, 2000. Tufts leads the all-time series 10-7.

The Continentals can clinch the eighth and final seed in the 2012 NESCAC championship with a loss by Trinity College against Williams College on Saturday, or with a Hamilton win at home against Bates College on Sunday. A Trinity win and Hamilton loss would put the Bantams in the championship and the Continentals' season would be finished. The Jumbos have secured the fourth seed in the conference tournament.