Men's basketball picks up road win over Vassar
---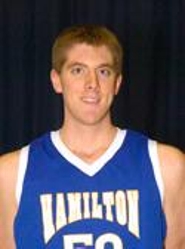 Ken Click '13 scored 10 points, grabbed seven rebounds and blocked three shots to lead Hamilton College to a 71-53 win against Vassar College in a Liberty League game at Vassar's Athletics & Fitness Center on Feb. 19.

Despite the victory, Hamilton will miss out on the postseason for the first time since 1974, as the Continentals were eliminated from league tournament contention after wins tonight by Hobart College and Clarkson University.

Eight Hamilton players scored eight or more points. Jay Simpson '10 dropped in 10 and handed out five assists. Eric Benvenuti '13 added 10 off the bench. Joe Manns '10 scored nine and made three steals. Max Shillalies '11 posted eight points and a team-high nine rebounds. The Continentals (10-13 overall, 6-7 Liberty) held a 48-35 advantage on the boards and blocked 10 shots.

Vassar (2-22, 0-13) led 13-11 midway through the first half when Hamilton went on an 18-0 run. A jumper by Manns began the run and tied the score at 13. Six Hamilton players scored during the run, which featured 3-pointers by Ephraim McDowell '12 and Benvenuti. A free throw by Shillalies gave the Continentals a 29-13 lead with 7:20 left in the half.

Vassar cut the Continental lead to eight on a layup with 49 seconds remaining. Click hit a jumper to make the score 37-27, and Vassar hit a jumper of its own with seven seconds left for a 37-29 score at the half.

The Brewers were within seven points after making two free throws early in the second half, but didn't get any closer. The Continentals led by as many as 22 points twice late in the contest. The first time was after a Benvenuti 3-pointer with 5:07 left. The Brewers responded with a jumper, but Hamilton made the score 68-46 after a layup by Jon Ciriello '11. Vassar was 6 of 24 from the floor in the final 20 minutes.
The Continentals shot 43 percent from the floor and 38 percent from 3-point range. The Brewers shot just 32 percent from the field and 29 percent from behind the arc.

Hamilton finishes its regular season with another league game at Rensselaer on Saturday, Feb. 20.