Men's basketball picks up win over Rensselaer
---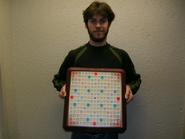 Pat Sullivan '12 recorded a double-double with 20 points and career-high 12 rebounds to lead Hamilton College to a 55-43 win against visiting Rensselaer in a Liberty League game at Margaret Bundy Scott Field House on Jan. 22.

Dayne Harris '11 came off the Hamilton bench to score 10 points. Jay Simpson '10 chipped in nine points and three assists. Joe Manns '10 added seven points and passed out three assists. The Continentals (6-7 overall, 2-2 Liberty) held Rensselaer to 24.6 percent (14-57) from the field, including 15.8 percent (3-19) from 3-point range.

At one point in the first half, both teams went more than nine minutes without a field goal. The score was still tied at 12 with 1:52 left in the half. Hamilton scored the final five points of the first half and the first two of the second, and never trailed again. A 3-point play by Sullivan and a layup by Simpson gave the Continentals a 17-12 lead at the break, and a layup by Manns made it a seven-point advantage with 18:52 remaining.
Rensselaer (10-4, 2-2) cut Hamilton's lead to two 1:46 into the second half, but that was as close as the Engineers could get. With 9:48 left, the Continentals started a 10-0 run, and stretched their lead to the largest of the game at 14 points. The run featured eight points from Sullivan, including a dunk that put Hamilton up 42-28 with 6:38 remaining.
Hamilton shot 55 percent (11-20) from the floor in the final 20 minutes. Sullivan had 13 points and seven rebounds in the second half alone.
The Continentals lead the all-time series, 46-36. Rensselaer finished with a 44-37 advantage in rebounds, including 22 on the offensive glass. However, the Engineers were just 12 of 24 at the free-throw line. The Continentals shot 71 percent from the charity stripe.

Hamilton hosts Vassar College for another league game on Saturday, Jan. 23.