Men's basketball player honored by league
---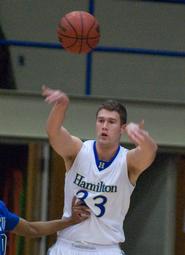 Hamilton College men's basketball player Pat Sullivan '12 (Madison, N.J./Delbarton School) was selected to the Liberty League team of the week on Jan. 17.

The honor is the fourth for Sullivan this season. The 6-foot-7 forward averaged 20.3 points and 8 rebounds in three games last week. He posted double-doubles in the first two games. He added four assists, five steals and two blocks, and shot 87.5 percent (21-24) at the free-throw line.

Sullivan leads the league in scoring at 18.1 points per game. He ranks fifth with 7 rebounds per game and third in field goal percentage at 52.4 percent.

Hamilton (7-5 overall, 1-2 Liberty) hosts nationally ranked No. 5 and undefeated Middlebury College in non-league play on Tuesday, Jan. 18. The Continentals resume their league schedule at Rensselaer on Friday, Jan. 21, and at Vassar College on Saturday.