Men's basketball player is all-league
---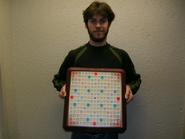 Hamilton College's Pat Sullivan '12 (Madison, N.J./Delbarton School) was selected to the 2010 Liberty League men's basketball all-league team on Feb. 25, when the league announced its end-of-season award winners.
Sullivan -- a 6-foot, 7-inch forward -- was one of five players voted to the all-league first team. He was rookie of the year and all-league honorable mention last season.
This season, Sullivan ranked fifth in the league with 14.9 points per game and eighth with 6.5 rebounds per game. He was eighth with a free throw percentage of 73.8 percent and 12th with a field goal percentage of 45.6 percent. He was also second in the league in offensive rebounds.
Hamilton finished the season with an overall record of 10-14, including 6-8 in the league.